The warning follows the January 11 arrests of half a dozen alleged Iranian operatives in the northern Iraqi city of Irbil and the seizure of documents from their offices.
U.S. Undersecretary of State Nicholas Burns said on January 31 that the Iranians detained on January 11 were members of Iran's Islamic Revolutionary Guard Corps.
Providing Explosives Training?
Rejecting Tehran's claim that the men were diplomats, he alleged they were providing "very sophisticated explosive technology to Shi'ite insurgent groups who then use that technology to target and kill American soldiers."
At the U.S. State Department on January 31, spokesman Sean McCormack warned Iran that Washington will respond as necessary to protect its soldiers.
"In the case of Iran working with networks inside Iraq, those working with networks that pose a danger to American soldiers, absolutely, we're going to confront those networks because they pose a direct threat to the lives of American soldiers, and we are going to take whatever steps in Iraq that we deem necessary in order to protect our forces," McCormack said.
U.S. officials say Iran is providing the unidentified Shi'ite militant groups with technology for making high-grade explosives -- known as "shaped bombs" -- that are capable of tearing through armored military vehicles.
Washington has stepped up accusations against Tehran in recent weeks as sectarian tensions mount in Iraq. U.S. officials accuse Tehran of fueling the conflicts in the country, a charge Tehran denies.
Protecting U.S. Forces
U.S. President George W. Bush's nominee to head the U.S military's Central Command -- with responsibility for Iraq and Afghanistan -- said on January 30 he would seek support for efforts to counter Iranian influence in the region.
Admiral William Fallon indicated those efforts stopped short of attacking Iran, saying he was unaware of any such contingency plans.
Bush, speaking on January 26 to reporters at the White House, also emphasized the need to protect U.S. forces in Iraq.
"Our policy is going to be to protect our troops in Iraq," Bush said. "It makes sense -- that if somebody is trying to harm our troops or stop us from achieving our goal or killing innocent citizens in Iraq -- that we will stop them. It's an obligation we all have to protect our folks and achieve our goal."
Radio Farda reported on January 29 that the main publication of the Islamic Revolutionary Guard Corps, "Sobh Sadegh," implied in a recent article that the corps could kidnap U.S. soldiers in Iraq and transfer them to desired locations.
The article reportedly said that kidnapping U.S. soldiers is "easy" and can be done "at any moment."
Caught In The Middle
Iraqi Prime Minister Nuri al-Maliki said on January 31 that he will not allow his country to become a battleground for the United States and Iran.
However, al-Maliki also said he was convinced that Iranians were influencing attacks on U.S. soldiers in Iraq.
Meanwhile, Iran's ambassador to Iraq, Hassan Kazemi Qomi, told the U.S. daily "The New York Times" this week that Tehran was stepping up its military and economic ties with Baghdad.
He also said Washington had no evidence of Iranian involvement in Iraq.
Iraq And Iran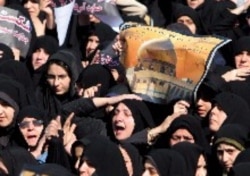 Iranian Shi'a protesting the Golden Mosque Bombing in Iraq on February 24


WHAT IS GOING ON? On March 8, RFE/RL's Washington office hosted a roundtable discussion on relations between Iraq and Iran. Although most analysts agree that Iran has been actively involved in Iraq since the U.S.-led military operation to oust former Iraqi President Saddam Hussein, they continue to debate the nature, extent, and intent of that involvement.
The RFE/RL briefing featured WAYNE WHITE, former deputy director of the U.S. State Department Bureau of Intelligence and Research's Office of Analysis for the Near East and South Asia, and A. WILLIAM SAMII, RFE/RL's regional analyst for Iran and editor of the "RFE/RL Iran Report."
LISTEN
Listen to the complete RFE/RL briefing (about 75 minutes):

Real Audio
Windows Media
RELATED ARTICLES
Iran/Iraq: Bilateral Ties Improving Despite U.S. Worries
Renewed Speculation About Tehran And Instability In Iraq
Iran/Iraq: Neighbors Mending Ties, But Outstanding Issues Remain
ARCHIVE
RFE/RL's
coverage of Iran
. RFE/RL's
coverage of Iraq
.