Speaking today in Moscow after talks with top EU officials, Lavrov said Russia respects the principles of an international energy treaty, but objects to some key elements.
In the past, Russian officials have said Moscow will not ratify the EU's Energy Charter in its current form. The charter regulates transit and investment in the energy sector.
Russia says Brussels must offer assets comparable in value in exchange for such access.
Lavrov also suggested that the EU sanction transit countries that cause supply disruptions, an apparent reference to Ukraine and Belarus.
"We also noted during our talks today that some of the transit countries that created problems in energy resources supply from Russia to Europe are members of the Energy Charter treaty, so members of this treaty can certainly use methods provided in it to discipline those transit countries," Lavrov said.
The 27-member EU relies on Russia for about one-quarter of its energy supplies.
Pricing disputes with Ukraine and Belarus have temporarily interrupted supplies to Europe, raising questions about Moscow's reliability as a supplier.
(compiled from agency reports)
Russia And Global Energy Security
Russia And Global Energy Security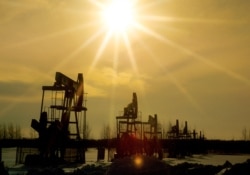 An oil field in Russia's Republic of Bashkortostan (TASS file photo)


ENERGY SECURITY is increasingly moving to the top of the EU's agenda in its dealings the outside world. A recent report identifies the European Union's main energy objectives as not just securing gas and oil deliveries from Russia, but also ensuring that it has reliable alternative sources, including in Central Asia. Nonetheless, EU officials say relations with Russia take center-stage in their thinking....(more)
RELATED ARTICLES
EU Maintains Codependent Energy Relationship With Russia
Turkmenistan: The Achilles' Heel Of European Energy Security
U.S. Official Urges Reforms In Energy-Producing Countries
ARCHIVE
A
complete archive
of RFE/RL's coverage of energy issues in the Caspian Sea region and Russia.