Momeni made the comments after authorities on February 4 banned him and prominent dissident academic Hashem Aghajari from leaving the country for a trip to the United States.
Momeni says the move is part of an attempt by the government to restrict activists.
"It seems that the main goal of those involved in creating these limitations is to isolate intellectuals and civil society activists inside the society and to cut their ties with the outside world," Momeni said. "These limitations have no legal justification. They violate the laws and the Universal Declaration of Human Rights."
Aghajari, who as planning to travel to the United States for a lecturing trip, has said that the government's move was not "justifiable."
Officials have not commented on the case.
In recent weeks several other activists and journalists have been prevented from leaving Iran to attend conferences and seminars.
Women In Iran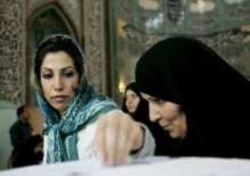 Women in Tehran (epa file photo)

CALLING FOR MORE RIGHTS: Although women played key roles in Iran's 1979 Islamic Revolution, the place of women in post-revolutionary society has been a vexing question. Iranian women have struggled to bring attention to their calls for greater rights in their country's rigid theocratic system, calls that have often clashed with the values proclaimed by conservatives in society. (more)
RELATED ARTICLES
Tehran Police Renew Campaign To Combat 'Un-Islamic' Dress
Iranian Peace Prize Laureate Shirin Ebadi On Women's Rights
Activists Concerned About Self-Immolation Of Iranian-Kurdish Women
The Younger Generation's 'Tehran Blues'
ARCHIVE
RFE/RL's coverage of Iran. RFE/RL's coverage of issues concerning women throughout our broadcast area.

SUBSCRIBE
For a regular review of civil-society developments throughout RFE/RL's broadcast region, subscribe to "RFE/RL (Un)Civil Societies."