Daniyar Usonov and Dosbol Nur-uulu were appointed as deputy prime ministers under newly approved Prime Minister Azim Isabekov. Usonov has been serving as deputy prime minister, and Nur-uulu has been serving as acting education minister.
Bolotbek Nogoibaev is a new appointment as interior minister, while acting Defense Minister Ismail Isakov returns to that portfolio, Marat Kayipov returns as justice minister, and Oktomkhan Abdullaeva was picked to serve as labor and social-protection minister.
Murat Sutalinov was reappointed to chair the National Security Committee, a job that he initially took up in October after a scandal involving drugs planted on an opposition politician who was briefly detained by Polish authorities at Warsaw airport.
The nominations follow the approval earlier today of a new government structure by lawmakers. The approved plan includes a total of 14 ministries, including two new ones, two deputy prime ministers, five state committees, and 11 state agencies.
The vote came after several days of discussions and follows Isabekov's confirmation as Kyrgyzstan's new prime minister on January 29. Isabekov's nomination followed two legislative rebuffs when Bakiev sought to reappoint Feliks Kulov to serve as prime minister.
President Bakiev is expected to name his candidates for the remaining vacant posts in the coming days.
Understanding Kyrgyzstan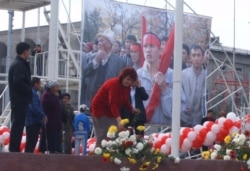 Workers preparing for celebrations of the constitutional compromise in Bishkek on November 9 (RFE/RL)


A STABLE FOUNDATION? On November 9, RFE/RL's Washington office hosted a briefing featuring RFE/RL Kyrgyz Service Director Tyntchtykbek Tchoroev and RFE/RL analyst Daniel Kimmage.
LISTEN
Listen to the complete discussion (about 80 minutes):

Real Audio
Windows Media
RELATED ARTICLES
Parliament Adopts Constitution Curtailing Presidential Powers
Crisis Deepens After President Proposes Constitutional Changes
Bishkek Prepares For Large Opposition Rally