The Grand Mosque and the Union of French Islamic Organizations accuse "Charlie Hebdo" magazine and its director of inciting racial hatred by reprinting the Danish caricatures that sparked violence in the Muslim world last year.
The charges carry a possible six-month sentence and fine of nearly $30,000.
A lawyer for the magazine surprised the court by reading a letter of support from Interior Minister Nicolas Sarkozy. In it, the conservative presidential candidate said he prefers "an excess of caricatures to an absence of caricatures."

Observers say the case highlights the unclear area between free speech and religious sensitivities.
Fleming Rose, the Danish editor who first published the cartoons in September 2005, said freedom of speech in Europe would be set back "decades" should the French magazine be found guilty.
(Reuters)
Islam In A Pluralistic World
Islam In A Pluralistic World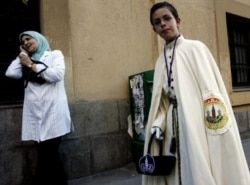 A Muslim woman (left) watches a Christian procession in Madrid in March (AFP)


READ
CONFERENCE ON ISLAM:
A major international conference on Islam concluded in Vienna in November 2005 with strong appeals from prominent Muslim leaders to recognize international terrorism as simply "terrorism." Political figures from Islamic countries, including the presidents of Iraq and Afghanistan, argued that it should never be labeled "Islamic" or "Muslim" terrorism because Islam is based on peace, dialogue, and tolerance. "Salaam" -- meaning "peace" -- was the key word of the three-day conference, titled "
ISLAM IN A PLURALISTIC WORLD
."
Iraqi President Jalal Talibani and Afghan President Hamid Karzai used the word in their remarks to emphasize the peaceful nature of Islam. Other speakers quoted passages from the Koran to the effect that all men and women, regardless of faith, are creatures of God and should live in peace with each other without discrimination
...(more)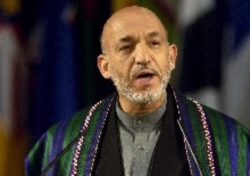 LISTEN
Listen to Afghan President
HAMID KARZAI
's complete address to the Vienna conference (in English):
Real Audio
Windows Media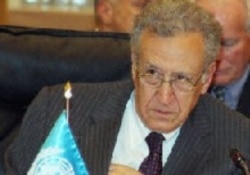 LISTEN
Listen to UN special envoy
LAKHDAR BRAHIMI
's complete address to the Vienna conference (in English):
Real Audio
Windows Media
THE COMPLETE PICTURE:
Click on the image to view a thematic webpage devoted to issues of religious tolerance in RFE/RL's broadcast region and around the globe.