The modern staging has become caught up in cultural tensions between the Islamic world and the West because it features the severed heads of the great teachers of world religion, including the Prophet Muhammad.
Artistic License Vs. Self-Censorship
Hans Neuenfels, the man who created this controversial new arrangement of the Mozart work, has refused to consider deleting the scene with the severed heads of the Prophet Muhammad, Jesus, Buddha, and Poseidon.
Neuenfels admits frankly that this scene is a protest against all organized religion, and, using the license of an artist, he says the opera must stay as it is.
The Deutsche Oper management cancelled the first four performances set for September after police warned that they had information that Islamic militants might attack. But that delay led to criticism from German political leaders, such as Chancellor Angela Merkel and Interior Minister Wolfgang Schaeuble, who spoke about "self-censorship through fear."
Deutsche Oper then announced that it would go ahead with two performances of the work in Berlin, on December 1 and 29. Those performances will take place despite the theft this week of all four severed heads. Opera spokesman Alexander Busche says the heads have "simply disappeared," and there is no clue to where they have gone, or why they were stolen.
Security Concerns
Busche sweeps aside any suggestion that "Idomeneo" might be delayed again, and suggests the opera house's original decision to cancel performances was motivated by a desire for public safety.
"We share the view absolutely that the freedom of art must be guaranteed, and we are demonstrating that we don't want any self-censorship, we want to perform the piece, but under secure conditions," he adds.
Security they will need indeed, because Interior Minister Schaeuble is scheduled to attend the December 18 performance to show that Germans will not be intimidated.
Cultural Proxy Wars
The saga with the Deutsche Oper is the latest case of how Western culture is being put under pressure by fears, whether real or imagined, that religious communities may be offended and that militants might strike back.
The Western cultural world was shocked by the unexpected outburst of Muslim anger at the series of cartoons of the Prophet Muhammad that appeared in Danish newspapers earlier this year. The cartoons were later published around Europe and elsewhere, as a demonstration of solidarity with free expression.
But the furor did remind Westerners that other cultures have different tolerances and different ways of seeing things.
The Danish case, for instance, has left deep marks on the Muslim world. Despite the Danes' profile as a tolerant and responsible nation, a recent survey in Egypt indicates that 60 percent of Egyptians view Denmark as a hostile state, and 37 percent view it as a very hostile state.
Pope Benedict XVI's quoting in September of a Byzantine emperor who characterized Islam as a violent religion also caused strong feeling among Muslims that have not been fully overcome by the pope's conciliatory tour to mainly Muslim Turkey in October.
The remarks of one Istanbul student, Cagri Goksel, were typical of many. "An ecclesiastic at that level should not say bad things against other divine religions," he said. "He said what should be said now [on his Turkish tour]. But I don't believe that this is what essentially is in his mind. He revealed his thoughts many times before, in his previous statements."
Clash Within Civilizations
Distrust and misunderstandings over different perceptions and values is, of course, not limited to Western and Muslim societies. Cultural clashes occur in other communities also.
For instance, in December 2004 hundreds of members of Britain's Sikh community attempted to storm a theater in the city of Birmingham to protest against a play by Sikh writer Gurpreet Kaur Bhatti. The tradition-minded demonstrators believed the subject and setting of the play was too scandalous.
In the event, the theater gave way and announced it was withdrawing the production because of fears for public safety. However, another Birmingham theater later offered to stage the play.
It seems there will always be tension between those who take the traditional view of life, in which culture and philosophy stick to the known paths from one generation to the next, and liberals, for whom cultural perceptions are constantly changing, often resulting in irreverence to established norms.
Pope Benedict XVI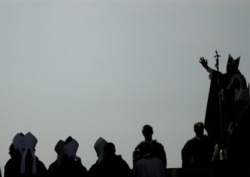 Pope Benedict conducts a Mass in Bavaria in September 2006 (AFP)

FIGHTING SECULARISM, EXTREMISM: On April 19, 2005, German-born Cardinal Joseph Ratzinger was elected pontiff of the Roman Catholic Church. Since becoming Pope Benedict XIV, the pope has labored to combat growing secularism in Europe and growing fundamentalist extremism in the Islamic world. His efforts have sometimes provoked controversy.
RELATED ARTICLES
Pope Expresses 'Deep Respect' For Muslims
Pope's Comments Bring Threats, Condemnation
Pope's Remarks Bring Interfaith Dialogue To Crisis Point
Pope Sparks Controversy With Jihad Remarks
Catholic, Orthodox Churches Unite Against European Secularism
Orthodox And Catholics -- Heading Toward Reconciliation?