Iranian Cleric Issues Fatwa On Azerbaijani Journalist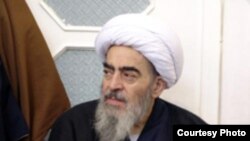 Grand Ayatollah Mohammad Fazel Lankarani (file photo) (Courtesy Photo) November 30, 2006 (RFE/RL) -- A senior Iranian cleric has issued a fatwa, or religious edict, against an Azerbaijani journalist who faces accusations of insulting the Prophet Muhammad in a recent article.
In a written response to a letter he said was sent to him by his Azeri followers living in Iran, Grand Ayatollah Mohammad Fazel Lankarani called the killing of Rafiq Tagi a "necessity."
Lankarani's fatwa also applies to Samir Sadaqatoglu, the editor in chief of the Azerbaijani newspaper "Sanat," which published Tagi's controversial article.
Critics accuse Tagi of ridiculing Islamic sanctities and of portraying Christianity as being superior to Islam. His article was illustrated with the same cartoons of the Prophet Muhammad that triggered protests throughout the Muslim world after a Danish daily published them earlier this year.
An Azerbaijani court earlier this month sentenced Tagi and Sadaqatoglu to two months' detention each over the publication.
Two other Iranian clerics, Ayatollah Morteza Bani Fazl and Ayatollah Mohsen Mojtahed Shabestari, have also called for Tagi's killing.