Senior U.S. military officials are quoted by U.S. news organizations as saying al-Sadr, leader of the Imam al-Mahdi Army militia, left Baghdad two or three weeks ago and fled to Tehran, where he has family.
Al-Sadr allegedly feared he could be targeted by U.S.-led coalition forces amid the current security crackdown under way in Baghdad, according to the reports.
However, two aides to al-Sadr denied the reports. AFP quotes Nassar al-Rubaie as saying al-Sadr is still in Iraq, without saying where, while another aide said he remains in the Shi'ite holy city of Al-Najaf.
The reports about al-Sadr's alleged departure followed an announcement that Iraq is closing its borders with Iran and Syria for 72 hours as part of the operation to halt violence.
(compiled from agency reports)

Muqtada Al-Sadr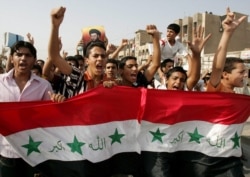 Al-Sadr supporters demonstrating against the U.S. presence in Iraq in October 2006 (epa)

A RADICAL CLERIC. Shi'ite cleric Muqtada al-Sadr is a key figure in Iraq. He heads the Imam Al-Mahdi Army militia and a political bloc that is prominent in parliament and the government. His ties to Iran have also provoked concerns in some quarters.
RELATED ARTICLES
Cracking Down On Al-Sadr No Easy Task
Political Parties Consider Uniting Against Al-Sadr
Is Al-Sadr Stirring The Pot Or Promoting Peace?
Radical Shi'ite Cleric Calls For Shi'ite-Sunni Unity
Al-Sadr Reasserts Himself -- This Time Against Coreligionists