Bush said that his new plan to secure Iraq was "beginning to take shape," but warned that U.S. and Iraqi troops will not be able to put an end to all the violence immediately. He told a news conference in Washington, D.C., that insurgents will try to discourage U.S. and Iraqi efforts to stabilize the country.
"The operation to secure Baghdad is going to take time, and there will be violence," he said. "As we saw on our TV screens, the terrorists will send car bombs into crowded markets. In other words, these are people that will kill innocent men, women, and children to achieve their objective, which is to discourage the Iraqi people, to [encourage] violence, and to, frankly, discourage us from helping this government do its job."
Bush cautioned that the situation in Baghdad could worsen if the United States does not remain committed to Iraq.
Bush's remarks came as the House of Representatives debates a nonbinding resolution that opposes Bush's deployment of an additional 21,500 troops to Iraq. Most of the force is heading to Baghdad as part of Bush's revised strategy announced last month.
The Democrats, who control both houses of Congress, are largely against the proposed troop surge. However, Bush urged lawmakers to give his plan a chance to work before criticizing it.
"The House of Representatives will vote on a resolution that opposes our new plan in Iraq before it has a chance to work," he said. "People are prejudging the outcome of this."
Iran-In-Iraq Accusations
Bush also referred to accusations made by U.S. officials in recent days that Iran has helped Iraqi insurgents in Iraq.
He accused the Quds Force, a division of Iran's Islamic Revolution Guards Corps, of sending weapons to Iraq that were then used to kill U.S. soldiers there. However, he said he does not know if Iranian government officials have been behind Quds' involvement in sending weapons into Iraq.
"I can say with certainty that the Quds Force, a part of the Iranian government, has provided these sophisticated [improvised explosive devices] that have harmed our troops," Bush said.
"And I'd like to repeat, I do not know whether or not the Quds Force was ordered from the top echelons of government. But my point is, what's worse, them ordering it and it happening, or them not ordering it and it happening? And so we will continue to protect our troops."
Iranian President Mahmud Ahmadinejad denied on February 12 that Iran was supplying weapons to Iraqi militants.
Bush explained that such U.S. accusations were not a pretext for war, but an attempt to protect U.S. troops in Iraq.
Sees Nuclear 'Progress'
Bush also addressed the dispute over Iran's nuclear program, saying that he believed the United States and its allies were making progress toward solving the issue peacefully. But he said direct talks with Tehran were unlikely to be successful.
But the president praised a new international agreement reached with North Korea on its nuclear program, which he said is a "unique deal."
The agreement -- concluded this week in Beijing after several days of six-nation (Russia, China, Japan, South Korea, the United States, and North Korea) talks -- requires Pyongyang to shut down its main nuclear reactor and eventually dismantle its nuclear program in return for fuel aid.
Bush said the deal reached in Beijing represented a good beginning, but he cautioned that more efforts are needed to implement the deal.
"This is good progress. It was a good first step," he said. "There is a lot of work to be done to make sure that the commitments made in this agreement become a reality, but I believe it is an important step in the right direction."
Relations With Russia 'Complicated'
Bush was also asked if bilateral relations were deteriorating after Russian President Vladimir Putin in recent days sharply criticized what he said were aggressive U.S. policies.
Referring to this issue, Bush acknowledged disagreements between Washington and Moscow on key international issues. But he emphasized the mutual interests the two countries have in confronting international challenges.
"It's a complicated relationship," he said. "It's a relationship in which there are disagreements, but it is also a relationship in which we can find common ground to solve problems."
He said there were issues the United States and Russia could work on together, such as concerns over Iran's nuclear program.
The Proliferation Threat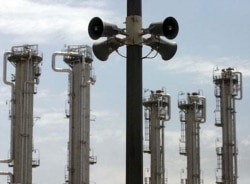 The Arak heavy-water plant in central Iran (Fars)


BENDING THE RULES. Henry Sokolski, executive director of the Nonproliferation Policy Education Center, told an RFE/RL-Radio Free Asia briefing on January 9 that the West is hamstrung in dealing with Iran and North Korea because of the way it has interpreted the international nonproliferation regime to benefit friendly countries like India and Japan.
LISTEN
Listen to the entire briefing (about 90 minutes):

Real Audio
Windows Media
RELATED ARTICLES
Iran, North Korea Present Proliferation Challenges
Tehran Watches As North Korea Tests Global Resolve
Rogue Nuclear Programs Threaten New Arms Race
Why Shouldn't Pyongyang Join Nuclear Club?