Under the Chechen Constitution, the duties of republic head devolve onto Prime Minister Ramzan Kadyrov, whom many regard as Alkhanov's obvious successor.
Putin subsequently named Alkhanov Russian deputy justice minister.
Alkhanov's resignation, late on February 15, effectively ends the two-year rivalry between him and Chechen Prime Minister Ramzan Kadyrov, the son of Alkhanov's predecessor Akhmed-hadji Kadyrov, who was killed in a terrorist bombing in May 2004.
Article 76 of Chechnya's constitution stipulates that if the republic head dies, steps down, or is otherwise incapacitated, his duties devolve automatically onto the prime minister -- in this case, Kadyrov. It is not yet clear, however, whom Putin will propose to succeed Alkhanov as Chechen administration head: Kadyrov, or someone else.
Presidential envoy to the Southern Federal District Dmitry Kozak is scheduled to hold consultations in Grozny on February 16, on the basis of which he will propose at least two possible candidates to President Putin. Putin will then select one, whose nomination must be formally endorsed by the Chechen parliament.

Primed For President
Given the younger Kadyrov's reputation as Chechnya's unofficial strongman, and the deference with which Putin treated him at the time of his father's death, analysts predicted even at the time of Alkhanov's election in August 2004 that he was intended as only a temporary figure. Analysts said he would be shunted aside in October 2006 when Kadyrov turned 30, the minimum age for the position of republic head.

Two months after Alkhanov's election, Kadyrov was promoted from deputy prime minister to first deputy prime minister, and in February 2006, he succeeded an ethnic Russian, Sergei Abramov, as premier. In December 2004, President Putin bestowed on Kadyrov the prestigious Hero of Russia award, to the outrage and consternation of human rights activists familiar with the record of abductions, torture, and summary killings allegedly perpetrated by police and other semi-official security bodies subordinate to Kadyrov. Some survivors have implicated Kadyrov himself.

Successes
Yet the undisputed progress achieved over the past two years in rebuilding at least parts of Grozny and Kadyrov's home town of Gudermes appear to have reinforced Putin's perception of Kadyrov as an energetic and capable young man who gets things done, rather than as an unstable psychopath with a private army numbering thousands of men at his disposal.

Meanwhile, in an attempt to soften his reputation as the most feared and hated man in Chechnya, Kadyrov set about establishing a kind of moral discipline that is in keeping with traditional Chechen values, imposing restrictions on the sale of alcohol, cracking down on drug addiction, banning gambling, and encouraging women to dress modestly in public, including covering their heads.
"The cult of personality and idealization of a single person will not bring any benefit to our republic and society." -- Alu Alkhanov
In private, however, Kadyrov has different ideas. Clandestine video footage circulated last year showing him groping a dancing girl while his minions mistreated a detainee whose screams are clearly audible above Kadyrov's maniacal laughter.
At the same time, he launched a charm offensive, tirelessly visiting schools, building sites, and hospitals -- and ensuring that the local media give extensive coverage to such activities.

As indicated above, analysts both in Russia and abroad have long taken it for granted that, sooner or later, Kadyrov would become republic head, notwithstanding Kadyrov's own repeated protests that he has no such ambitions. Those predictions intensified in the run-up to Kadyrov's 30th birthday last October, which was marked in Chechnya with much pomp and circumstance, but then abated when Putin did not move immediately to promote his protege.

Power Struggle
In recent weeks, however, the power struggle between Kadyrov and Alkhanov has intensified. Government officials loyal to Kadyrov are believed to have restricted Alkhanov's access to local media and to have confiscated and destroyed the entire print run of the sole Chechen paper that planned to mark Alkhanov's 50th birthday in late January.


In the wake of that humiliation, Alkhanov publicly affirmed on January 25 that he did not plan to seek a second term in 2008. Presidential envoy to the Southern Federal District Kozak said the same day that the Kremlin had no plans to replace Alkhanov. And on February 13, Alkhanov said that it was up to the Almighty and President Putin how long he remained Chechen administration head.
If Kozak's disclaimer is to be taken at face value, then it seems possible that Alkhanov may inadvertently have precipitated his own ouster by hitting back at Kadyrov. At a February 12 meeting with representatives of federal power agencies, Alkhanov warned that "totalitarian methods of governing contradict...the spiritual mentality" of the Chechen people, and in a veiled but unmistakable allusion to Kadyrov, he went on to criticize the "cult of personality and idealization of a single person," which he predicted "will not bring any benefit to our republic and society."
Alkhanov's close ally, Economic and Social Security Council Secretary German Vok, was even more outspoken, arguing that Kadyrov should have demonstrated greater respect for Alkhanov and resigned before publicly criticizing him. Putin's aides may have advised him to remove Alkhanov, rather than risk a repeat of the incident in Moscow last fall in which Kadyrov dispatched a hit squad to gun down on the street his renegade former subordinate Movladi Baysarov.

Other Candidates
While Kadyrov's name will doubtless figure on the shortlist of potential candidates to succeed Alkhanov that Kozak presents to Putin, it is not a foregone conclusion that he will be the final selection. Kadyrov himself last month identified as the optimum candidate Social Development and Labor Minister Magomed Vakhayev, who is 57, a trained lawyer, and who worked for years as a functionary in the Soviet Ministry of External Trade. The appointment of Vakhayev as a figurehead would permit Kadyrov to continue to wield supreme power and to promote, through Vakahyev and the parliament, his own political and economic agenda.
Clandestine video footage shows Kadyrov groping a dancing girl while his minions mistreat a detainee whose screams are clearly audible.
Some points of that agenda may already have triggered alarm bells in Moscow. Kadyrov's close associate Dukvakha Abdurakhmanov, speaker of the lower chamber of the Chechen parliament, has proposed recombining Chechnya and Ingushetia to form a single republic.
Kadyrov for his part has called for redrawing the border between Chechnya and Daghestan to give back to Chechnya districts that were part of the then Checheno-Ingush ASSR before that republic was abolished in the wake of the 1944 deportation of Chechens and Ingush by then Soviet leader Joseph Stalin.
Those proposals suggest that Kadyrov already considers Chechnya too small and insignificant a fiefdom. Abdurakhmanov has also argued on several occasions that Chechnya should be granted the status of a free economic zone, the right to exploit and dispose of its subsoil resources (meaning in the first instance oil), and exemption from all federal taxes -- in addition to the huge subsidies it already receives from the federal budget.
Shadowy Faction
There is, moreover, a powerful if shadowy anti-Kadyrov faction within the federal power ministries. It could possibly include those federal officials with whom Alkhanov met in Grozny on February 12 in his abortive last-ditch attempt to focus attention on the dangers of vesting all Moscow's Chechen hopes in one man.

It was presumably those power ministries who were behind the humiliating incident in August 2006 when Kadyrov's press service publicly announced the imminent surrender of Chechen President and resistance leader Doku Umarov, only to retract those statements hours later on discovering that the man who surrendered was not Doku Umarov but his brother.

Finally, logic would suggest that if, as both Putin and then Russian Defense Minister Sergei Ivanov assured the international security conference in Munich last weekend, Chechnya has been "normalized" and the "problems" it posed have been successfully solved, there is no longer any need for a strongman as republic head. It isn't clear whether Putin will be guided in his choice by logic or by his apparent unshakeable confidence in Kadyrov.
The Rise Of Ramzan Kadyrov
The Rise Of Ramzan Kadyrov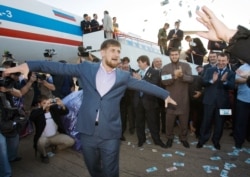 Kadyrov dances at the reopening of Grozny Airport
Ever since his father, pro-Kremlin Chechen President Akhmed-Hadji Kadyrov was killed in a May 2004 bomb blast in Grozny, Ramzan Kadyrov has risen to prominence.
In March 2006, First Deputy Prime Minister Kadyrov, who heads a personal army of 10,000 heavily armed fighters, was named prime minister. His reign as premier has been characterized by divisions in the Chechen leadership and accusations of torture. But he has also been credited with improving living standards in the republic.
In October, he turned 30, clearing the way for running for president.
CHRONOLOGY
The
fighting in Chechnya
has raged, with short breaks, since 1994. It has brought misery, death, and destruction to the North Caucasus republic and to Russia as a whole. View an
annotated timeline
of the conflict.