The change ended an apparent power struggle with Prime Minister Ramzan Kadyrov, who will now serve as acting president of the breakaway republic.
In a televised meeting in the Kremlin, Putin told Alkhanov that he had accepted his "request" to be given a new post.
Putin also praised the outgoing Chechen president, whom he has now appointed to serve as deputy Russian justice minister.
"You have served as Chechen president since August 2004, and a lot has improved in Chechnya during this time," Putin said. "This hasn't been the easiest time for the Chechen Republic and the whole country, particularly in the Caucasus, but a lot has been achieved."
'The Republic Is Stable'
In the same meeting, Alkhanov also gave himself a degree of credit for bringing a measure of stability to Chechnya.
"I believe our most important [achievement] is that the backbone of Wahabbism and extremism has been broken," Alkhanov said. "All bodies of state power are working properly in the republic today. The republic is stable today. And of course, this is not only my work, but also the work of many, many other people."
The change comes after days of speculation that rivals Alkhanov and Kadyrov were engaged in a bitter power struggle.
As recently as February 12, Alkhanov -- who was elected Chechen president after the assassination of Ramzan's father, Akhmed-hadji Kadyrov -- denied rumors that he was planning to resign.
Alkhanov said whether he remained in office was a matter for "the Almighty and the president of our country."
There have also been reports of alleged harassment of Alkhanov by Kadyrov's allies.
Presidential Ambitions
Kadyrov -- who turned 30 years old in October, thus clearing the last legal hurdle to becoming president of the republic -- has made no secret of his desire to assume the post.
As prime minister, Kadyrov automatically became acting president following Alkhanov's resignation.
Putin will now name a replacement who must be confirmed by the republic's legislature. Many analysts believe that Putin will name Kadyrov president.
RFE/RL analyst Liz Fuller says that regardless of whether Kadyrov is formally named president, he is and will remain the most powerful figure in Chechnya.
"He already has virtually unlimited power," Fuller says. "Whether he is named president or prime minister is to all intents and purposes irrelevant, given that it is he who dictates, up to a point, what is happening in Chechnya."
Brutal Methods
Kadyrov is widely feared in Chechnya as the leader of a private militia force that human rights groups say is involved in murder and kidnapping.
The Kremlin, however, maintains warm ties with Kadyrov, whose brutal methods are nonetheless credited by many with enforcing a certain sense of stability in the war-torn republic.
"Kadyrov has real power if you consider that power grows out of the barrel of a gun," Fuller says. "He has any number of police and security agencies that are subordinate to him. He boasted a few weeks ago that he has up to 17,000 men under his command."
The changes in Chechnya followed a government reshuffle in Moscow today.
The Chechnya Conflict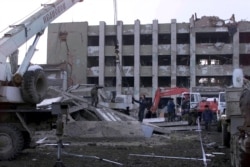 The aftermath of a December 2002 Chechen resistance attack on the main government building in Grozny (epa)


CHRONOLOGY
The
fighting in Chechnya
has raged, with short breaks, since 1994. It has brought misery, death, and destruction to the North Caucasus republic and to Russia as a whole. View an
annotated timeline
of the conflict.

ARCHIVE
RFE/RL's complete coverage of Russia's war-torn Republic of Chechnya.