Many observers both in Russia and abroad have long considered it a given that Kadyrov will be named to succeed incumbent republic head Alu Alkhanov before the end of this year, even though Kadyrov has denied harboring any such ambitions.
A recent visit to Chechnya by a large Russian government delegation, whose members were cited in the Russian press as unanimously lauding Kadyrov's role in expediting reconstruction of the republic's war-shattered infrastructure, has also been widely interpreted as reflecting Moscow's backing for Kadyrov.
Or Maybe Not...
Russian journalist Anna Politkovskaya, however, who has years of first-hand experience of developments in Chechnya and elsewhere in the North Caucasus, suggested in a recent interview with RFE/RL's North Caucasus Service and a subsequent article published in "Novaya gazeta" on August 14 that the Russian leadership has finally lost patience with Kadyrov, and that the government ministers who traveled to Grozny in July ordered him unambiguously to toe the line.
Politkovskaya further claimed that several Chechen law enforcement bodies have "mutinied" against Kadyrov and refused either to continue making the requisite payment of a percentage of their monthly salary into the Akhmed-hadji Kadyrov Fund, named after Ramzan's slain father, or to renew their oath of loyalty to Ramzan.
Some observers claim that since the death of Kadyrov's father in May 2004, police formations subordinate to Kadyrov have superceded the Russian military as the primary perpetrators of seemingly arbitrary killings and abductions of civilians.
Kadyrov said in an interview published in "Nezavisimaya gazeta" on August 14 that he does not consider himself mature enough to assume the role of republic head, and he claimed -- not entirely convincingly -- that he dreams of quitting politics altogether.
Aleksei Malashenko of the Carnegie Moscow Center was quoted by "Novye izvestiya" on August 15 as suggesting that Moscow may shunt Kadyrov sideways into some kind of honorific post such as Russia's permanent representative to the Organization of the Islamic Conference.
Alkhanov's Move
Meanwhile, Alkhanov has launched what appears to be either a last-ditch attempt to preclude, or at least delay, his dismissal, or alternatively, a move coordinated with Moscow to discredit Kadyrov and provide grounds for removing him. On August 11, Alkhanov issued a decree establishing an advisory body that will focus on human rights issues, law and order, and the interaction between Chechen government bodies and federal agencies in the sphere of economic and social security. Those are all areas in which Kadyrov and his subordinates are widely charged with have ridden roughshod over legal norms.
Alkhanov's August 11 decree transforms the republic's Security Council into a Council for Economic and Social Security. His stated rationale for doing so, according to "Nezavisimaya gazeta" on August 14, was the law enforcement organs' failure to reduce the scale of endemic corruption by arresting offenders and bringing them to trial.
Alkhanov simultaneously appointed as secretary of the new council his former chief adviser German Vok, who headed his election campaign in Grozny in 2004. Kadyrov was quoted by "Nezavisimaya gazeta" on August 14 as saying neither he, other government officials, nor the Chechen parliament were informed in advance of the impending reorganization of the Security Council. But Alkhanov could not have undertaken that reorganization without the prior approval of the Kremlin.
Council Confronts The Military
The first session of the new council took place on August 15 and focused on the situation in those districts of southern Chechnya that border Georgia, according to chechnya.gov.ru. Local pro-Moscow administrators have accused Russian military units deployed there of violations ranging from restricting the access of local residents to their homes to illicit logging. Vok rejected attempts by Vladimir Ponomaryov, deputy commander of the Federal Border Service Administration, to deny or downplay the seriousness of those violations, regnum.ru reported on August 16.
Vok further announced the creation of a commission that will address the "misunderstandings" between the Chechen civilian population and the Russian military. The primary cause of such "misunderstandings" over the past seven years has been the indiscriminate recourse by the latter to violence against the former.
But some observers claim that since the death of Kadyrov's father in a terrorist bombing in May 2004, police formations subordinate to the younger Kadyrov have superceded the Russian military as the primary perpetrators of seemingly arbitrary killings and abductions of civilians. Thus if Alkhanov were to announce that effective measures have been enacted to prevent such abuses by the Russian military, the blame for any future crimes of that nature would devolve onto the Chechen government law enforcement agencies for which Kadyrov as prime minister is ultimately responsible.
Kadyrov's Counterstroke
Just days after the creation of Alkhanov's new council, Kadyrov's office issued orders to the Interior Ministry to investigate reports that local bureaucrats are extorting money from residents of Argun and Gudermes (Kadyrov's home town) to finance reconstruction work there, kavkaz.memo.ru reported on August 15.
It was not clear whether those payments were in addition to the statutory requirement that all Chechens employed in the public sector pay a percentage of their monthly salary into the Akhmed-hadji Kadyrov Fund, which finances reconstruction projects, among other things. Kadyrov warned that any bureaucrat found guilty of extorting money will be punished.
The Chechnya Conflict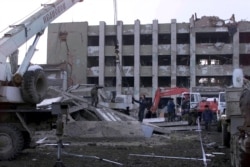 The aftermath of a December 2002 Chechen resistance attack on the main government building in Grozny (epa)


CHRONOLOGY
The
fighting in Chechnya
has raged, with short breaks, since 1994. It has brought misery, death, and destruction to the North Caucasus republic and to Russia as a whole. View an
annotated timeline
of the conflict.

ARCHIVE
RFE/RL's complete coverage of Russia's war-torn Republic of Chechnya.