PRAGUE, July 14, 2006 (RFE/RL) -- The manifesto, signed by ChRI Foreign Minister Akhmed Zakayev, was posted on July 13 on the resistance website chechenpress.org.
Zakayev told RFE/RL's North Caucasus Service on July 14 that even though he was the one to sign the manifesto, the offer of peace talks has been approved by Chechen President Doku Umarov and by "all those who participate in the resistance."
The manifesto notes that up to 100,000 people have been killed in fighting in the nine years since the signing in 1996-1997 of the various formal Russian-Chechen agreements ending the first Chechen war. It also says that the ongoing fighting is undermining stability and economic development across the North Caucasus.
It stresses that while the Chechen people have fought in two wars for independence, and regard independence as the most fundamental guarantee of peace and their future security, they would agree to talks on an unspecified alternative solution to the conflict in line with international law.
The manifesto acknowledges that "the continuation of military activity and violence will not lead to a solution to the conflict," and advocates embarking on negotiations with Russia with no preconditions set by either side. Finally, it stresses the Chechen leadership's rejection of "all forms of violence" against civilians, including acts of terrorism.
Zakayev Interview
Zakayev told RFE/RL on July 14 that the Chechen resistance to Russia will not weaken, and therefore neither the international community nor Russian President Vladimir Putin is capable of ending the fighting without resorting to peace talks.
"We have one goal. The war there [in Chechnya] cannot be ended without political negotiations. The resistance to Russia and the occupying forces in the republic will not abate, in that the Chechen people and the Chechen insurgents are unanimous," Zakayev said. "Neither Putin nor the international community is capable of changing that situation without talks."
Zakayev explained that the manifesto is intended to put an end to what he says is Russia's continuing flouting of international law by paving the way for peace talks.
"The whole time Russia has waged war in Chechnya in line with [the requirements of] its internal policy. It always gives precedence to its own priorities and wishes, ignoring international laws and obligations. This will continue indefinitely unless the situation is changed by political means," Zakayev said. "Our statement [manifesto] is based on this. In the event that the international community and Russia see some other way to guarantee the security of the Chechen people, then we shall affirm with all certainty that we are prepared to discuss that path."
Previous Efforts
This is by no means the first time that the Chechen resistance leadership has signaled its readiness either for peace talks with Moscow, or for a settlement of the conflict that would bestow on Chechnya some undefined status that falls short of independence from the Russian Federation.
In April 2000, weeks after the fall of Grozny, then Chechen President Aslan Maskhadov declared a unilateral cease-fire and called for peace talks and the dispatch to Chechnya of an OSCE fact-finding mission. Maskhadov issued five further calls in 2000-01 for unconditional peace talks, and in June 2002, on the eve of the G8 summit in Canada, he sent an open letter to the participants calling for a cease-fire in Chechnya. He also asked for their assistance in resuming contacts between Zakayev, then his envoy in Europe, and the Russian leadership.
Just weeks before he was killed on March 8, 2005, Maskhadov again declared a unilateral cease-fire and declared his readiness for unconditional peace talks -- a move that the Russian leadership ignored.
But even after Maskhadov's death, President Putin and other senior Russian officials have continued to rule out any peace talks with "terrorists," a category in which they include both President Umarov and Zakayev.
Shamil Basayev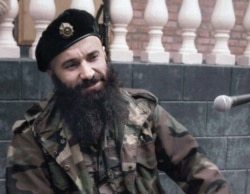 Shamil Basayev in September 1999 (epa)

MASTERMIND OF BUDYONNOVSK, BESLAN: Radical Chechen field commander Shamil Basayev waged a 15-year campaign against Russian control of Chechnya, including masterminding some of the most audacious terrorist acts the world has ever seen. Below are links to some of RFE/RL's reporting about Basayev in recent years.
RELATED ARTICLES
The Rise Of Russia's 'Terrorist No. 1'
Is Basayev Planning To Torpedo The Russian-Chechen Power-Sharing Treaty?
Basayev Rejoins Chechen Rebel Government
Basayev Says He Helped Plan Nalchik Raid
Basayev Says Beslan Raid Prompted By FSB Sting
Moscow Says It Will Punish U.S. TV Network Over Basayev Interview
Budyonnovsk Marks 10th Anniversary Of Terrorist Raid
Look Back In Anger -- Ten Years Of War In Chechnya
CHRONOLOGY
An
annotated timeline
of the conflict.

ARCHIVE
RFE/RL's complete coverage of Russia's war-torn Republic of Chechnya.