At Least 13 Rebels Killed In Chechnya
Russian forces strip-search a Chechen man (file photo) (ITAR-TASS) July 13, 2006 -- Chechen officials say security forces killed some 13 militants in fighting near the village of Nozhai-Yurt, close to the border with Daghestan.
Chechen and federal Interior Ministry officials said a group of between 20 and 30 rebels were trying to cross the border when they were confronted by Chechen security forces on July 12.
(AP)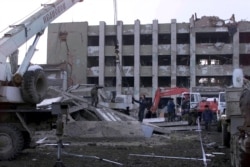 The aftermath of a December 2002 Chechen resistance attack on the main government building in Grozny (epa)


CHRONOLOGY
The
fighting in Chechnya
has raged, with short breaks, since 1994. It has brought misery, death, and destruction to the North Caucasus republic and to Russia as a whole. View an
annotated timeline
of the conflict.

ARCHIVE
RFE/RL's complete coverage of Russia's war-torn Republic of Chechnya.