The approach of Kadyrov's 30th birthday has stirred speculation about if -- and how soon -- he might step up to the presidency of Chechnya's pro-Moscow administration.
For his part, Kadyrov has assumed an air of modesty, suggesting he is not yet ready to become president. He has added a critical caveat, however. He would consider the position, he says, if it was "the will of the people."
"Moscow is, of course, grateful to Ramzan for what he's done. But it disapproves of his ambitions."
And in a country where Kadyrov's leadership style -- part efficiency, part intimidation -- has generated a kind of grudging respect, the public could be expected to back such a move.
Ruslan Martagov is a former spokesman for an earlier, Moscow-installed Chechen government -- that of Doku Zavgayev in the mid-1990s. Now head of the Antiterror Foundation in Moscow, Martagov says Kadyrov has long had his eye on the presidency, a post previously held by his father, Akhmed-hadji Kadyrov, who was assassinated in May 2004.
"It's very difficult to measure the scale of Ramzan Kadyrov's political ambitions. They are boundless. But his next goal is to become president of the Chechen Republic, and he will seek to achieve that goal. If the Russian president continues to show goodwill toward him, he will reach it very soon," Martagov says. "So far, Putin's goodwill is intact. But I think the first alarm bells are ringing."
Staying On Kremlin's Good Side
In fact, Kadyrov has not been an easy political partner for Moscow. He is notorious as the head of a personal army of 10,000 so-called "Kadyrovtsy" -- heavily armed fighters who use kidnappings, torture, and other brutal means to maintain a sense of control in the republic.
But at the same time, Kadyrov is largely credited with improved living standards in the republic, which during the past decade has been devastated by two federal wars against separatist rebels. Highways have been resurfaced, the electricity grid repaired, and new cafes and shops have opened -- not only in the capital Grozny, but in the towns of Argun and Gudermes as well.
By bringing a sense of normalization to Chechnya, Kadyrov has provided a political boost for Putin, who himself came to power vowing to resolve the crisis in North Caucasus republic. It had been expected Putin might reward Kadyrov by helping clear the way for his presidency as soon as possible after his 30th birthday on October 5.
The Chechen parliament has already taken steps to amend the constitution to expedite the replacement of the current president, Alu Alkhanov, whose term formally expires in 2008.
Sheen Starting To Fade
It is unlikely, however, that such a move could proceed without a green light from the Kremlin. And analysts say there are signs that Kadyrov's aggressive political style has started to disturb Russia's political elite, including the president himself.
Chechnya expert Aleksei Malashenko says a lot has changed since Putin first summoned Kadyrov to Moscow just hours after the assassination of his father. "Putin then treated him maybe not like a son, but definitely as a young, unfortunate man. Putin had a lot of respect for his [Ramzan's] father, and the sympathies he felt for the father extended to the son," Malashenko says. "But as Ramzan's ambitions grew, Putin understood that he was quite an autonomous, independent, and even -- in a sense -- dangerous figure."
Kadyrov's increasingly autonomous style appears to be inconsistent with Moscow's notion of how a loyal Chechen official should act.
Kadyrov recently irritated the Kremlin by openly criticizing Russian officials for failing to control ethnic riots in the northern Russian city of Kondopoga, vowing to restore public order himself if necessary.
He has accused "certain ministers and bureaucrats" in Russia -- carefully excluding Putin -- of trying to steal Chechnya's $450 million in annual oil revenues. He has also angered Moscow by donating funds to separatists in Georgia's breakaway region of South Ossetia.
The Alkhanov Card
His behavior has prompted at least one lawmaker in the State Duma to put forward a motion to have Kadyrov removed as prime minister. In the end, says Malashenko, the more pliable, less flamboyant Alkhanov may prove a better political partner for Moscow.
"Moscow is, of course, grateful to Ramzan for what he's done. But it disapproves of his ambitions," Malashenko notes. "Ramzan has very powerful opponents in Moscow who are gradually starting to play the Alkhanov card. Alkhanov is not only more loyal to Moscow than Ramzan, he's also better integrated into Russian society, into the Interior Ministry and all these structures. He is more predictable, he is unlikely to take unpredictable actions like Ramzan."
It is unclear what response a Kremlin rebuff would elicit in Kadyrov, or how he would react if his path to the Chechen presidency were blocked.
Perhaps aware of his vulnerability, he has continued to praise Putin as "the only person who can save Russia." But for all Kadyrov's loyalty, it is not clear that Putin can save him.
Ramzan Kadyrov Turns 30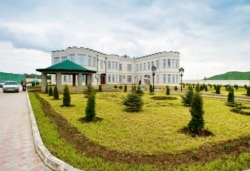 Ramzan Kadyrov's personal residence in Gudermes (TASS)
'PLEASED, HAPPY, AND GRATEFUL':
RFE/RL's North Caucasus Service interviewed a number of Chechens in the republic, in Moscow and Amsterdam. An overwhelming majority had nothing but praise for their prime minister -- and hope that he might soon become president:
"All of us are pleased, happy, and grateful," one woman said. "And all of us know perfectly well who should be thanked for that -- of course, Ramzan Kadyrov, who followed the noble path of his father [assassinated Chechen President Akhmed-hadji Kadyrov]."
"We should have such a birthday every six months. Because of his birthday, they are building roads, renting out apartments, patching up the holes. Today the airport is opening up! It would be hard to think up a greater joy for Chechens," a man in Chechnya said. "We have spent so much money on taxis in order to get to the airports in Sleptsovsk, Nazran, Nalchik. What has Ramzan done for us? We don't even know it all. Everything that God has given him, he has dedicated to the prosperity of the Chechen Republic. God help him. Let him have a birthday every six months. That's what I say."
"Why wouldn't people want him to become president? He's done a lot of work and provided a lot of help," another man said. "It's good that poor people have someone to help them. I think that poor people would want to see him as president."
Chechens further afield, however, had few warm words about Kadyrov. This woman spoke to RFE/RL from Amsterdam.
"I don't think he is an exceptional person," she said. "And I don't think that people are praising him because they have forgotten about their killed and tortured. I think that all this is being done to put an end to things, so that they would stop the killing. They think he can do this. They think that here he is tsar, judge, and God. So they are afraid. They are afraid to criticize him. The price of the airport that is being opened and the other buildings has been the blood of many people. What is built on blood cannot stand. History tells us how quickly people like him are forgotten -- so-called dictators after they are either chased out of power or killed. A lot of things will appear wrong, inadequate, disgusting when he is no more. I feel sorry for the people who live there. Most likely, they are praising him because they think they have no other choice."
RELATED ARTICLES
Kadyrov's Birthday Clears Way To Presidency
New Council Points To Divisions In Chechnya's Leadership
Analysts Say Basayev Death Will Have Little Effect On Chechen Policy
CHRONOLOGY
The
fighting in Chechnya
has raged, with short breaks, since 1994. It has brought misery, death, and destruction to the North Caucasus republic and to Russia as a whole. View an
annotated timeline
of the conflict.