Alu Alkhanov, a former interior minister who was elected to succeed the elder Kadyrov in October 2004 as the republic's leader, is widely regarded as a weak, ineffective, and transitional figure. But it could also be argued that in contrast to Kadyrov, Alkhanov is a stabilizing, not a potentially destabilizing factor, and would in the long term prove more loyal to Moscow.
Kadyrov's Private Army
Ramzan Kadyrov began his political career as commander of a force of former resistance fighters co-opted to serve as his father's bodyguards. That force, known as the Kadyrovtsy, has become a byword for widespread human rights abuses, including the abduction, torture, and killing or ransom of Chechen civilians suspected of colluding, or even sympathizing with, the resistance.
Those abuses, in which Kadyrov is rumored to have participated personally, have angered and alienated the Chechen population. That alienation has been compounded by resentment at the requirement that all state-sector employees contribute a sizeable percentage of their monthly salary to a charitable fund name after Akhmed-hadji Kadyrov.
It is that fund, insiders claim, that Ramzan Kadyrov draws on to finance the much-publicized reconstruction of strategic buildings in Grozny and his home town of Gudermes.
Bringing Stability To Grozny
Russian President Vladimir Putin, however, seems convinced that Kadyrov is the only man capable of neutralizing the remaining Chechen resistance fighters and bringing some semblance of order and calm to the war-shattered republic. (Visiting Grozny in May 2004 immediately after the death of the elder Kadyrov, Putin was clearly shocked by the extent of the destruction.)
In December 2004, Putin bestowed upon Ramzan Kadyrov the prestigious Hero of Russia award and, in early March 2006, Kadyrov was promoted to the post of prime minister. Since then, he has sought assiduously, reportedly with the help of a sophisticated team of spin doctors, to transform his image and win the hearts and minds of the population.
To that end, he has launched a charm offensive, tirelessly visiting schools, building sites, and hospitals, and establishing a kind of moral discipline in keeping with traditional Chechen values. Some observers, however, have construed his espousal of those values as reflecting a long-term plan to promote the cause of Chechen independence from Russia.
Meanwhile, Moscow continues to turn a blind eye to the lawless activities of the various security forces loyal to Kadyrov. In late April, those forces engaged in a shoot-out with Alkhanov's bodyguards in which at least one man died.
Cracks Start To Show
Then, last month, a group of Chechen special police traveled to Ingushetia to apprehend a suspect and opened fire on Ingushetian traffic police who sought to prevent them from taking that suspect back to Chechnya.
At least eight men died in that incident, but days later, at a meeting attended by Kadyrov, Alkhanov, Ingushetian President Murat Zyazikov, and presidential envoy to the Southern Federal District Dmitry Kozak, the Ingushetian authorities were ordered not to obstruct any future such cross-border operations by Kadyrov's men.
Kadyrov's power base is not, however, confined to the Kadyrovtsy. The parliament elected in November 2005 is also loyal to him, and its chairman, Dukvakha Abdurakhmanov, frequently floats proposals on Kadyrov's behalf -- such as amending the constitution of the Russian Federation to permit President Putin to run for a third term in 2008.
The parliament has also called for changes to the Chechen Constitution that would strengthen even further Kadyrov's position vis-a-vis Alkhanov. And in a clearly stage-managed demonstration of apparent support for Kadyrov, Chechens took to the streets across the republic last week to protest Kadyrov's orders to remove the ubiquitous posters depicting him.
The Case For Alkhanov
Alkhanov for his part is fighting back, most recently by creating in August, without first informing Kadyrov, a new Council for Economic and Social Security that will focus on human rights abuses among other things.
And several Russian experts on the North Caucasus are increasingly inclined to believe that there is a faction within the Russian leadership that considers Kadyrov a liability and is therefore shoring up Alkhanov's position. That faction used the July appeal by Federal Security Service Director Nikolai Patrushev to Chechen fighters to lay down their arms and surrender as a means of embarrassing and discrediting Kadyrov.
Russian media announced on August 18 that Chechen Ichkeria President and resistance commander Doku Umarov himself had showed up at Kadyrov's home base in Gudermes, near Grozny, to surrender to him in person. Within the hour, however, those reports were retracted and the man who surrendered identified as Umarov's brother Akhmed, who was captured two years ago.
While it is difficult to estimate with any degree of accuracy the relative strength of the anti-Kadyrov faction, its very existence makes any immediate move to sideline Alkhanov and promote Kadyrov as his successor unlikely, although not totally unthinkable.
Ramzan Kadyrov Turns 30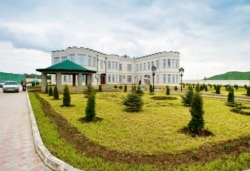 Ramzan Kadyrov's personal residence in Gudermes (TASS)
'PLEASED, HAPPY, AND GRATEFUL':
RFE/RL's North Caucasus Service interviewed a number of Chechens in the republic, in Moscow and Amsterdam. An overwhelming majority had nothing but praise for their prime minister -- and hope that he might soon become president:
"All of us are pleased, happy, and grateful," one woman said. "And all of us know perfectly well who should be thanked for that -- of course, Ramzan Kadyrov, who followed the noble path of his father [assassinated Chechen President Akhmed-hadji Kadyrov]."
"We should have such a birthday every six months. Because of his birthday, they are building roads, renting out apartments, patching up the holes. Today the airport is opening up! It would be hard to think up a greater joy for Chechens," a man in Chechnya said. "We have spent so much money on taxis in order to get to the airports in Sleptsovsk, Nazran, Nalchik. What has Ramzan done for us? We don't even know it all. Everything that God has given him, he has dedicated to the prosperity of the Chechen Republic. God help him. Let him have a birthday every six months. That's what I say."
"Why wouldn't people want him to become president? He's done a lot of work and provided a lot of help," another man said. "It's good that poor people have someone to help them. I think that poor people would want to see him as president."
Chechens further afield, however, had few warm words about Kadyrov. This woman spoke to RFE/RL from Amsterdam.
"I don't think he is an exceptional person," she said. "And I don't think that people are praising him because they have forgotten about their killed and tortured. I think that all this is being done to put an end to things, so that they would stop the killing. They think he can do this. They think that here he is tsar, judge, and God. So they are afraid. They are afraid to criticize him. The price of the airport that is being opened and the other buildings has been the blood of many people. What is built on blood cannot stand. History tells us how quickly people like him are forgotten -- so-called dictators after they are either chased out of power or killed. A lot of things will appear wrong, inadequate, disgusting when he is no more. I feel sorry for the people who live there. Most likely, they are praising him because they think they have no other choice."
RELATED ARTICLES
Kadyrov's Birthday Clears Way To Presidency
New Council Points To Divisions In Chechnya's Leadership
Analysts Say Basayev Death Will Have Little Effect On Chechen Policy
CHRONOLOGY
The
fighting in Chechnya
has raged, with short breaks, since 1994. It has brought misery, death, and destruction to the North Caucasus republic and to Russia as a whole. View an
annotated timeline
of the conflict.