At least seven U.S. military helicopters in Iraq have been shot down or forced to land because of hostile fire in the past month. And now the insurgents have added a new weapon: chlorine gas.
In a teleconference briefing from Baghdad on February 22, Odierno told reporters at the Pentagon that he's adapting his own tactics to meet the new threat.
Odierno said he also has no evidence that senior official in the Iranian government are supporting Iraqi insurgents.
Odierno said he believes the insurgents using these new tactics are affiliated with Al-Qaeda.
"That's just another way they're trying to adapt to cause some sort of chaos here in the country," Odierno said. "And we'll continue to adapt toward those. As I said, when we found this factory a day and a half ago, we found chlorine cylinders there. So we'll continue to work against that."
Odierno pointed to a recent U.S. raid on a bomb factory near Al-Fallujah as a way his forces are fighting the insurgents' new tactic.
Chlorine Attacks
Chlorine causes respiratory trouble and skin irritation in low levels and is sometimes lethal with heavy exposure.
On February 21, a small truck carrying canisters of chlorine blew up in Baghdad, killing at least five people and dispersing the poison gas. At least 50 people suffered from shortness of breath and burning eyes.
A day earlier, insurgents north of Baghdad exploded a bomb attached to a tanker truck carrying chlorine. In that attack on February 20, a bomb planted on a chlorine tanker left more than 150 villagers stricken. More than 60 were still under medical care the next day.
Odierno also was asked about Britain's decision, announced on February 21, to withdraw about 1,600 troops from Iraq, most of them from the southern city of Al-Basrah.
The U.S. government says the move shows the success the coalition has had in stabilizing that region. And Odierno said he will closely watch events in Al-Basrah.
"What we want to do is see how they're going to go to operational overwatch," he said. "And this is sort of the plan we have for the entire country, once we get the violence to the level that we believe is acceptable. What I mean by acceptable: can be contained by Iraqi security forces. So in a lot of ways, they're going to be the first ones to do this, although we have done it [in] some other provinces, but Basra is the second largest city in Iraq."
Odierno was asked about U.S. accusations that Iran's elite Quds force has been helping some of the warring factions in Iraq. He replied that he believes the Iranian group is supplying training, funding, and weapons to some Shi'ite militias, but stressed that he has no evidence that the Quds force was, in his words, "propping up" any of the Iraqi groups.
Odierno said he also has no evidence that senior official in the Iranian government are supporting Iraqi insurgents.
On The Verge Of Civil War
On The Verge Of Civil War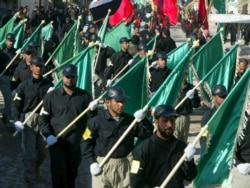 The Imam Al-Mahdi Army on parade (epa)
HAS THE CONFLICT IN IRAQ BECOME A CIVIL WAR? Many observers have concluded that the tit-for-tat sectarian violence that emerged after the February 2006 bombing of a mosque in Samarra has become a full-blown civil war.... (more)


RELATED ARTICLES
U.S. Media Starts Using 'Civil War' Label
Iraqi Prime Minister Under Fire From All Sides
U.S. Expert Discusses Prospects For Stabilization
President Says Iraq Needs Iran's Help
Saudi Arabia To Seal Off Border With Security Fence

THE COMPLETE PICTURE:
Click on the image to view RFE/RL's complete coverage of events in Iraq and that country's ongoing transition.