U.S. Commander In Iraq Says Time Needed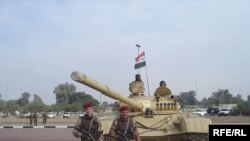 Odierno hopes Iraqi troops will soon be controlling Baghdad (file photo) (RFE/RL) January 7, 2006 -- The commander of U.S. combat forces in Iraq today said it may take up to three years to meet American goals.
Lieutenant General Raymond Odierno said the U.S. public would need patience to see a stable Iraq but also said he hoped Iraqi troops could be in control of Baghdad within months.
Odierno spoke to reporters as U.S. President George W. Bush is expected to announce a new approach in Iraq this week.
(Reuters)
Saddam Hussein: Looking Back

A DICTATOR'S LIFE:
A photo gallery of images from the life of former Iraqi President Saddam Hussein.
MORE: A timeline of the life of Saddam Hussein.