Nazarbaev, in his annual address to parliament today, said the target of doubling Kazakhstan's 2000 GDP by 2008 is "quite attainable."
He called for the demonopolization of the economy -- in particular the oil and gas, railway, and electricity sectors.
Nazarbaev also said Kazakhstan's economic integration within regional groupings such as the Commonwealth of Independent States (CIS), the Eurasian Economic Community (Eurasec), and the Shanghai Cooperation Organization (SCO) remains a priority.
The president said Kazakhstan will pursue its "own Kazakh way" of political reforms, implementing them gradually.
Nazarbaev said he has ordered the construction of 100 schools and 100 hospitals over the next three years, and he encouraged the nation of 15 million people to have more children.
Unusually, Nazarbaev's annual address to both houses of parliament was not shown live on television. It was broadcast nationwide a short time later.
(Interfax-Kazakhstan, ITAR-TASS, Reuters)

The Post-Soviet Petrostate
The Post-Soviet Petrostate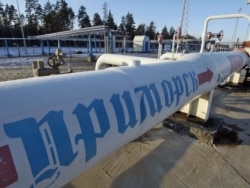 The oil-export terminal at Primorsk, Russia (TASS)


WEALTH AND POWER. At an RFE/RL briefing in Washington on January 24, Freedom House Director of Studies Christopher Walker and RFE/RL regional analyst Daniel Kimmage argued that energy-sector wealth is preventing many former Soviet countries -- Azerbaijan, Kazakhstan, Russia, and Turkmenistan -- from developing strong democratic institutions.
LISTEN
Listen to the entire briefing (about 90 minutes):

Real Audio
Windows Media
RELATED ARTICLES
Russia's Gazprom Looks Ahead To A New Year
Azerbaijan: Coping With The Oil Windfall
Azerbaijan Boom Sparks Fears Of Dutch Disease
Kazakh President Tells West -- We Don't Need Your Advice
Could Turkmen President's Death Lead Instability?