The meetings, which began in New York on March 5, are part of a deal reached last month aimed at ending North Korea's nuclear-arms program.
The United States and North Korea have been foes since hostilities ended in the 1950-53 Korean War.
The fact that the two sides are now negotiating bilaterally -- and discussing the possibility of normalizing relations -- can be called a milestone.
Under the Beijing accord, North Korea is to be rewarded in stages for its cooperation in gradually dismantling its nuclear program.
Low Expectations
U.S. Assistant Secretary of State Christopher Hill and North Korean Deputy Foreign Minister Kim Kye Gwan met for a first round of talks at New York's Waldorf Astoria hotel on March 5, with more discussions scheduled for today.
Nevertheless, U.S. State Department spokesman Sean McCormack, speaking to reporters before the start of talks, was careful to set expectations low.
"I would caution you that this is a first meeting and that this is more about setting the norms of how this working group will proceed," McCormack said.
The U.S.-North Korean working group is a result of the six-nation deal signed in Beijing on February 13, under which Pyongyang agreed to start dismantling its nuclear-weapons programs in exchange for economic and energy aid.
As McCormack noted, the joint working group is to discuss several issues, with the ultimate goal -- if all goes well -- of perhaps normalizing relations between Washington and Pyongyang.
"This is a working group meeting and [U.S. Assistant Secretary of State Christopher Hill] will begin a discussion about a number of different matters, so I wouldn't characterize them as normalization talks," McCormack said. "I think that he will talk to them about how the process might proceed regarding normalization. He will talk to them about how a process might proceed about looking at North Korea's listing on the state sponsors of terrorism list."
In parallel, North Korean negotiators are meeting with their Japanese counterparts in Hanoi this week for similar discussions aimed at eventually establishing diplomatic relations.
For skeptics who expressed doubts about the February deal with North Korea, it's at least an auspicious beginning.
While in New York, North Korea's deputy foreign minister also met separately with former U.S. secretaries of state Madeleine Albright and Henry Kissinger.
Unfreezing Assets
In another sign of a possible thaw between the two sides, the U.S. daily "The New York Times," citing U.S. officials, wrote last week that North Korea and the United States are close to an accord that would let Pyongyang recover some of the $25 million that was frozen by a bank in Macau.
The United States pressured Macau to freeze the North Korean assets in 2005, arguing that Pyongyang was using the Chinese territory to launder money from illicit activities, such as counterfeiting, smuggling, and arms trading.
The toughest part to resolving the North Korean nuclear issue, however, remains ahead.
Under the Beijing accord, North Korea is to be rewarded in stages for its cooperation in gradually dismantling its nuclear program.
After freezing activities at its main Yongbyon nuclear reactor, in the initial phase of the accord, North Korea is supposed to draw up a detailed list encompassing all of its nuclear programs and work toward their complete dismantlement.
Pyongyang has said it also wants negotiations to end in a peace deal with the United States and diplomatic recognition.

The Proliferation Threat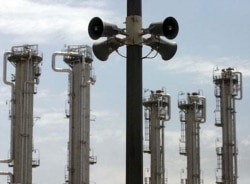 The Arak heavy-water plant in central Iran (Fars)


BENDING THE RULES. Henry Sokolski, executive director of the Nonproliferation Policy Education Center, told an RFE/RL-Radio Free Asia briefing on January 9 that the West is hamstrung in dealing with Iran and North Korea because of the way it has interpreted the international nonproliferation regime to benefit friendly countries like India and Japan.
LISTEN
Listen to the entire briefing (about 90 minutes):

Real Audio
Windows Media
RELATED ARTICLES
Iran, North Korea Present Proliferation Challenges
Tehran Watches As North Korea Tests Global Resolve
Rogue Nuclear Programs Threaten New Arms Race
Why Shouldn't Pyongyang Join Nuclear Club?