In his first press conference since taking command last month, General David Petraeus said insurgents had sought to intensify attacks during the first week's of the security crackdown.
"Regrettably, some of these [terrorists] groups are still carrying out their barbaric acts," he said. "In fact, we believe that they have sought to intensify their sensational attacks in recent weeks to provoke renewed sectarian violence and derail Operation Fard al-Qanun [the new Iraq security plan] before it can be fully implemented."
But he said there had also been some encouraging signs recently. He said sectarian killings had been lowered in Baghdad in the last few weeks, and that sectarian deplacements were also down.
Earlier, the Pentagon said it had approved Petraeus's request for the deployment of 2,200 more U.S. military police for Baghdad, in addition to the 21,500 combat troops and 2,400 support troops that have already been ordered. The extra military police contingent is meant to help handle an
anticipated increase in people detained during the ongoing Baghdad
security crackdown.
Petraeus said that U.S. and Iraqi troops "are steadily building their strength to support
the operation in Baghdad. The last of nine Iraqi surge battalions and the
second of five U.S. surge brigades have just entered Baghdad. This buildup will
continue throughout the spring, with all U.S. and Iraqi forces dedicated to the
mission in place by about early June."
Petraeus also said that at the same time, efforts are under way to double the number of civilian reconstruction teams in Iraq, from 10 to 20, with the focus on Baghdad and the Al-Anbar Governorate.
He also denounced the wave of recent attacks against Shi'ite pilgrims who are heading for a religious commemoration beginning on March 9 in the Shi'ite holy city of Karbala.
The attacks, mostly blamed on Sunni insurgents, have killed more than 150 pilgrims in the past three days.
(with material from AP, Reuters)
On The Verge Of Civil War
On The Verge Of Civil War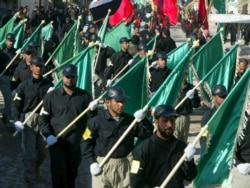 The Imam Al-Mahdi Army on parade (epa)
HAS THE CONFLICT IN IRAQ BECOME A CIVIL WAR? Many observers have concluded that the tit-for-tat sectarian violence that emerged after the February 2006 bombing of a mosque in Samarra has become a full-blown civil war.... (more)


RELATED ARTICLES
U.S. Media Starts Using 'Civil War' Label
Iraqi Prime Minister Under Fire From All Sides
U.S. Expert Discusses Prospects For Stabilization
President Says Iraq Needs Iran's Help
Saudi Arabia To Seal Off Border With Security Fence

THE COMPLETE PICTURE:
Click on the image to view RFE/RL's complete coverage of events in Iraq and that country's ongoing transition.