Baghdad hosts a security conference beginning on March 10 that includes Iraq's neighbors and the five permanent members of the UN Security Council.
Two central players in the meeting are the United States and Iran, states that officially do not engage bilaterally but now must address common concerns.
The focus is on what all the interested parties can do to stabilize a country where sectarian attacks have the potential to escalate into a full-blown civil war.
For all the conference participants, any such prospect raises major concerns.
Avoiding Worst-Case Scenario
The worst-case scenario might see sectarian fighting drag in Iraq's neighbors -- the Arab states and Iran -- to help co-religionists.
Should Iraq look headed for a break-up, Turkey might also intervene -- in Ankara's case to prevent an independent Kurdish state on its border.
Underlining the seriousness of such worries is that fact some 3.8 million people have already fled Iraq to neighboring countries, according to the UN refugee agency, the UNHCR.
The attendees most under scrutiny will be the United States -- which leads the international coalition trying to secure Iraq -- and Iran.
U.S. Allegations
Washington has repeatedly accused Iran of helping fund Iraq's Shi'ite militias and providing them with military expertise and materials.
"These are hard facts, based on the technologies and the actual weapons themselves," U.S. Defense Secretary Robert Gates said in Washington in February about charges that Iran's Quds Force is supplying powerful bombs to Iraqi Shi'ite groups that attack coalition forces. "I think that that evidence [of Iranian involvement] speaks for itself, and I hope that people will see that evidence in that respect."
One of the biggest questions hanging over the meeting is whether U.S. and Iranian representatives can now talk directly their contest in Iraq.
One senior U.S. official suggested on March 8 that Washington is leaving a door open for one-on-one discussions with the Iranians in Baghdad, so long as those discussions focus on how to build peace and stability.
David Satterfield, State Department coordinator for Iraq, said that "if a discussion emerges which is focused upon these goals in Iraq, they are discussions which, as diplomats, we will proceed with."
'No Separate Meeting'
Tehran has not commented on the possibility of one-on-one dialogue. But it has ruled out any separate meetings with U.S. officials on the sidelines of the summit.
"The Americans recently have called Iran for talks on Iraqi issues especially on the security in [Iraq] through different channels and now we are reviewing their proposals, but meeting with [U.S. officials] on the sideline of the summit in Baghdad is not on our agenda," Iranian Foreign Ministry spokesman Mohammad Ali Hosseini said on March 4, just before Iran agreed to attend the Baghdad meeting.
Washington has ruled out any separate discussions with Iran over non-Iraq issues, such as the Iran nuclear standoff.
Another player to be closely watched is Syria, whom Washington accuses of allowing money and foreign fighters into Iraq. Both allegedly help to fuel Sunni-based insurgent groups which are not only fighting against U.S. forces but also against the Iraqi Shi'ites' rise to power.
Paving The Way?
The one-day meeting takes place in Baghdad's heavily protected Green Zone.
Few observers expect any breakthroughs. But there is hope that preparations can be laid for a follow-up, ministerial-level summit in April.
U.S. Secretary of State Condoleezza Rice on February 27 put Washington's hopes this way: "This initial meeting [in Baghdad] will be followed -- perhaps as early as the first half of April -- by a ministerial-level meeting with the same invitees -- that is, regional states, neighbors, international organizations and the permanent five of the UN [Security Council], as well as perhaps the members of the [Group of Eight]. I would note that the Iraqi government has invited all of its neighbors, including Syria and Iran, to attend both of these regional meetings."
No venue or firm date has yet been set for the proposed ministerial meeting in April.
On The Verge Of Civil War
On The Verge Of Civil War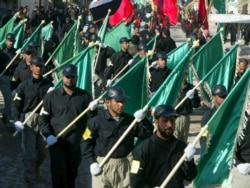 The Imam Al-Mahdi Army on parade (epa)
HAS THE CONFLICT IN IRAQ BECOME A CIVIL WAR? Many observers have concluded that the tit-for-tat sectarian violence that emerged after the February 2006 bombing of a mosque in Samarra has become a full-blown civil war.... (more)


RELATED ARTICLES
U.S. Media Starts Using 'Civil War' Label
Iraqi Prime Minister Under Fire From All Sides
U.S. Expert Discusses Prospects For Stabilization
President Says Iraq Needs Iran's Help
Saudi Arabia To Seal Off Border With Security Fence

THE COMPLETE PICTURE:
Click on the image to view RFE/RL's complete coverage of events in Iraq and that country's ongoing transition.