Georgian Official Says Kodori Troops Told Not To Fire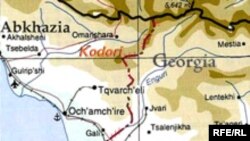 (RFE/RL) March 13, 2007 (RFE/RL) -- Georgian parliament speaker Nino Burdjanadze says Georgian troops in the disputed Kodori Gorge have been instructed not to return fire in the event of a conflict, RFE/RL's Georgian Service reported.
Georgian Interior Ministry officials said three Russian helicopters fired late on March 11 on the Kodori Gorge. Russia denies the accusation.
But speaking in parliament today, Burdjanadze said the Georgian troops will not continue to show such restraint if they feel the local population is in danger.
"Everybody should know that this cannot last indefinitely," she said. "If there is a real danger threatening our population, we have every capability to defend to the maximum the interests of any individual in any part of the country."
Georgian Foreign Minister Gela Bezhuashvili and Russian Foreign Minister Sergei Lavrov spoke by telephone on March 12 to discuss the incident.
Bezhuashvili said both parties are seeking a swift and unbiased investigation into what happened.
The gorge, which Georgian officials call Upper Abkhazia, is the only part of the breakaway province of Abkhazia that is still under Tbilisi's control.
(with material from Interfax)
Russian Sanctions On Georgia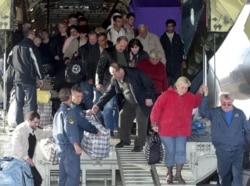 Georgian deportees arriving in Tbilisi on October 6 (epa)
RUSSIA DEPORTING GEORGIANS. Despite Georgia's release of four military officers accused of spying on October 2, Russia has continued its transport and postal blockade of Georgia, and has also deported hundreds of Georgians.... (more)
RELATED ARTICLES
Council Of Europe Head 'Concerned' About Reports Of Russian Sanctions
'No Time To Send Ambiguous Messages'
Ethnic Russians Feel Insulated From Tensions
Explaining West's Muted Response To Crisis
MORE: Coverage of the situation in Georgian from RFE/RL's Georgian Service and in Russian from RFE/RL's Russian Service.
ARCHIVE
RFE/RL's English-language coverage of
Georgia
and
Russia
.