Furthermore, over the past several months, hundreds of thousands of Moldovans have applied for Romanian passports, taking up a long-standing Romanian offer of fast-track naturalization.
All this has prompted some Western media to sound the alarm against a potential invasion of cheap Moldovan workers with Romanian passports. However, the threat of such an exodus appears to have caused more concern in Moldova itself than in Romania or the European Union.

'Bridge Of Flowers' Wilts
Since January, Moldovans have learned the hard way that Romania's brotherly enthusiasm of the early 1990s toward them is all but gone. Back then, Bucharest and its newly independent eastern neighbor pledged to span "with flowers" the border on the Prut River. Now they can't cross the river without a visa.
"I was making enough money for bread and food while working in Romania.
But now I am staying at home, I do not work, we have children to feed,
and the situation is hard if we can't go to Romania anymore."
Take the case of Moldovan Liliana Raileanu, who has been jobless since the beginning of 2007. Liliana, who lives in Sculeni, a Moldovan village near the Romanian frontier, used to work just across the border as a stall vendor at the market in Iasi, one of Romania's largest cities.
Now she needs a visa in her passport, and for that, she has to join the crowds waiting outside the Romanian Consulate in Chisinau for days in the hope they will make it inside.
Romania issues the visas for free, but if Liliana wants to be able to go back to work sooner, she can buy faster service through a local network of go-betweens for a total of $75, a small fortune in Europe's poorest country.
Liliana says she has decided to go for the fast-track option. "I was making enough money for bread and food while working in Romania. But now I am staying at home, I do not work, we have children to feed, and the situation is hard if we can't go to Romania anymore," she says. "I have paid 300 Moldovan lei to somebody to get me in front of the queue, I paid more than 300 lei for a Romanian invitation [necessary to obtain the visa], all in all I paid up to 1,000 lei [$75] to get the visa."
Alternately, some Moldovans opt for a trip to Odesa, in neighboring Ukraine, where they can get a visa more easily at the local Romanian Consulate. Tour operators in Moldova already offer "visa trips" to Odesa on a regular basis.
Western Drive Leaves Moldovans In The Cold
Until five years ago, it used to be quite simple for Moldovans to cross the border into Romania. A Moldovan ID card would suffice, sometimes with an occasional $5 bill slipped underneath to "oil the cogs," as they say.
Then, as Romania moved closer to EU membership, the ID was replaced by a Moldovan passport, while the ever-stronger euro supplanted the dollar tips.
Finally, in January, what had been unthinkable for Moldovans finally happened. As new EU member Romania was celebrating its hard-fought entry into the rich countries' club, their eastern neighbors found that, to cross the border, they now needed either a visa or a Romanian passport. And such documents have been increasingly hard to get.
Most of today's Moldova used to be part of Romania before World War II, and more than two-thirds of its estimated 4.5 million population are ethnic Romanians.
In theory, they would all be entitled to Romanian citizenship, since Bucharest in 1991 issued a law allowing Moldovans who could prove their Romanian ancestry to "regain" Romanian citizenship.
Romanian Passports Open EU Gates
The benefits of a Romanian passport would be considerably higher than those of a visa, which only allows travel to neighboring Romania.
The top prize could be unrestricted access, legal or not, to the European Union and its vast labor market. No wonder then that in the past three months alone some 400,000 applications for citizenship were filed at the consulate in Chisinau.
Romanian President Traian Basescu has recently estimated that each application would regard at least two family members, and said the total number of Moldovans waiting to obtain Romanian citizenship could exceed 800,000.
Threat Of Exodus Fails To Materialize
As early as October 2006, some Western media warned that Moldovans with a Romanian passport are unlikely to settle in relatively poor Romania, and will flood the EU with cheap labor.
Romania itself had been subjected to travel restrictions to EU countries until 2002, when it was granted visa-free access to most of Western Europe. But the EU abolished the visa regime only on condition Bucharest step up security on its own eastern borders with Moldova and Ukraine.
Despite all the worries, there has been no noticeable Moldovan exodus to the West recently. One possible reason would be that up to 1 million Moldovans have already been working abroad for years, both legally and illegally.
A second reason could be that over the past couple of years, Romanian authorities have actually been issuing a limited number of passports to Moldovans.
An estimated 70,000 Moldovans hold Romanian passports. However, between August 2005 and August 2006, Bucharest issued only 1,300 passports to Moldovans.
A spokesman for EU Commission Vice President Franco Frattini, who is also the commissioner for freedom, security and justice, has said that such figures fall within normal limits in any EU country.
"I think it is very unwise if we all, you know, would start to speculate on dramatic figures that millions of people would suddenly become Romanian, therefore EU nationals. We have to see what has happened so far, which are the numbers you've been referring too, which are certainly not abnormal when compared to other member states," EU spokesman Friso Roscam Abbing said.
Abbing added that, while the commission is working closely with the Romanian government, it rests solely with Bucharest to decide upon the citizenship issue.
"We have to very closely follow the developments and, very clearly, only relate to facts and not to speculations," he said. "The power of granting nationality to another person or the deliverance of passports is very clearly a competence which falls within the remits of member states of the EU. So this is something which is, in this particular case to be decided upon by the sovereign Romanian government."
Abbing said that new legislation is being prepared by Romania with EU help to more clearly define the process of granting Romanian nationality. He cautioned that until such legislation is completed, it would be premature to estimate the final impact of the current number of Moldovan applications.
In the meantime, the Romanian government has said it is making efforts to speed up both the visa procedure and the processing of passport applications.
Since January, Romanian authorities have had to process 10,000 visa applications per month, placing a huge workload on the consulate in Chisinau.
In January, while on a visit to Chisinau, President Basescu said he and his Moldovan counterpart Vladimir Voronin had agreed to open two more Romanian consulates in Moldovan cities to help deal with the increasing workload.
United They Fall
Then, on March 7, relations between Bucharest and Voronin's communist government, never too warm in the first place, deteriorated abruptly.
Chisinau accused Romania of threatening its national security and statehood by "inventing the artificial problem of Romanian citizenship" for Moldovans, and on March 14 cancelled its previous decision to allow the opening of additional consulates.
Furthermore, in what looked like a sign of irritation rather than a serious proposal, Chisinau offered Moldovan citizenship to the 8 million or so inhabitants of Romania's eastern region of Moldavia.
Voronin said that the offer was meant to unite "the Moldovan people" on both sides of the Prut River.
Predictably, there were no immediate reports of crowds gathering outside Chisinau's embassy in Bucharest.
(RFE/RL's Romania-Moldova Service contributed to this report).
The EU's Visa Regime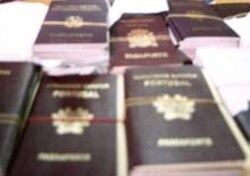 Standard visas to enter the European Union cost 35 euros ($44). However, the price rises to as much as 70 euros if the person applies within three days of departing.
Countries outside the European Union can negotiate their own treaties with the bloc.
Some visa fees are waived for certain applicants, notably for officials, students, athletes, scientists, or people receiving medical treatment.
Decisions on granting visas usually take 10 calendar days.
EU visa agreements do not apply to the United Kingdom and Ireland. Those countries have opted out of EU visa and immigration policy.
From January 1, 2007, the price of a Schengen-zone visa goes up by nearly 75 percent from 35 euros to 60 euros. Twenty-six countries are signatories to the Schegen agreement. They include all the EU states, with the exception of Ireland and the United Kingdom, and include the non-EU states of Iceland, Norway, and Switzerland. However, only 15 of the signatories have so far implemented the system. The new EU members from Central and Eastern Europe are among those countries yet to implement the agreement. EU officials have said the price rise is due to the need to integrate biometrics identifiers, for instance fingerprints, into the visa-application process.
Under readmission treaties, EU member states can ask a country to readmit illegal immigrants. That applies to a country's nationals or any third-country nationals who have transited through its territory.