RFE/RL: Reports from Afghanistan are that as civilian deaths and injuries mount, popular support for the Taliban is increasing, because local populations are turning to the Taliban for protection. The Taliban is now firmly in control of three districts in Helmand Province. How is NATO attempting to counter this?
John Craddock: I think the first thing that ISAF [International Security Assistance Force] is doing is telling the truth, and that may be a rare commodity. The fact is you will see reports of operations that ISAF has conducted that have resulted in the loss of noncombatant life, many of those are patently false, they are not true.
On occasion, indeed, there are bad things that happen because it's a war zone in parts of the country. And obviously ISAF does everything possibly to minimize that. There are rigorous rules of engagement, there are rigorous procedures we follow. But I will tell you ISAF does not participate in suicide bombers, they do not participate in these improvised explosive devices, and if one looks closely, there are more Afghan citizens wounded and killed from those types of attacks than from any inopportune ISAF engagements.
"Well, I think I would say that there are no shortcuts in the development of the country. It will be difficult and it will take some time"
RFE/RL: Some members of the U.S. Congress have suggested that the United States has the right to pursue insurgents and suspected terrorists across the Pakistani border -- what is your opinion of that position? And secondly, what is NATO doing to cooperate with Pakistani law enforcement and troops in the tribal areas where the Taliban seems to be finding refuge and gaining strength?
Craddock: Well, let me address the first question; that's a U.S. issue and I'm a NATO commander. What the United States decides to do with regard to border operations will be either unilaterally or bilaterally with Pakistan. Now, from a NATO perspective, we have a military tripartite committee which consists of the commander of ISAF, high-level Afghan military leadership, and Pakistani [leadership]. They meet routinely, they have subgroups -- one of these is a border subgroup; there is an exchange of liaison officers -- both ISAF to Pakistan, and there are five Pakistani officers working with ISAF. We have very good [military to military and] ISAF to Pakistani relations. We want to continue to grow that, and it has been helpful to date.
RFE/RL: What is NATO doing to support Afghanistan's fight against poppy cultivation and the trade in opium? You were quoted in "The New York Times" recently as having told your officers to "optimize those right[s] to the limit of the authority we have" and "push it to the edge because it's important" -- how is NATO helping local authorities in their effort to stop the drug trade?
Craddock: In the [authority] we have provided to ISAF and the operations plan they have in place, they have available to them the authority to assist the Afghan authorities in some counternarcotics, counterdrug activities. We can provide logistics support, we can provide intelligence support, we can provide -- in the conduct of our operations -- support for trafficking, the interdiction of traffickers. So we have some authority there, and I've reinforced those with COM-ISAF [commander of ISAF]. My guidance is that we use those authorities to the maximum extent possible, because we realize that there is a direct linkage between the drug traffickers and the Taliban and the insurgents. It finances much of that insurgent activity and we've got to break that linkage.
RFE/RL: What is the situation on the Iranian border? The Afghan authorities reported that two people were recently killed in a clash between border guards. Are there problems there?
Craddock: I am not aware of any problem there. There may have been some incident that again, I don't know if it was criminally related. I do know that the border [crossings] there, they're full of commerce; there are trucks going back and forth every day, and as I said, out in the western province of Herat, which is an economic engine right now, there is much cross-border activity. I'm not aware of any situation that would lead me to believe that we have at this time a problem out there on the border between the two countries.
RFE/RL: You have said that the NATO mission in Afghanistan is short at least two combat battalions, and also needs more aircraft, helicopters, and intelligence-gathering equipment. How optimistic are you that you're going to get the help you need?
Craddock: Well, the trends are positive. We have gotten increased commitment -- both small units and some larger units. The United Kingdom and the United States obviously has put a, left a brigade in place of 3,200 [troops]. We continue to work this every day. Am I optimistic? I'm not pessimistic. I think once we can describe what's at risk here, and we describe the advantages and the flexibility gained, we may well have some contributing nations. Now, that could be member nations, or that could be partner nations who are not members of NATO, but who are partners in this effort.
RFE/RL: A caller to RFE/RL's Radio Free Afghanistan said if NATO can provide us with jobs, schools, security, etc. -- in other words, the basics of everyday life -- we wouldn't join or support the Taliban or insurgencies. Is NATO attempting to do these things and, if so, are you finding success with your efforts?
Craddock: Well I guess that'll be when people write in and say thank you to those efforts. If you look right now at Operation Achilles, in the regional command south, I think the first thing you will see [is] that there is an enormous number of projects, both agricultural, providing infrastructure, providing social services, the building of clinics, building of schools, roads, bridges, digging [wells for] many of the people in the very small villages and towns there. That's the first thing that's being looked at.
The second thing is, is their security adequate to be able to do that? That's where the forces go in and establish a presence and then immediately these projects start to occur. So that is indeed the intent. The line of action is that we must reconstruct and ensure that -- and do we need the security in place to do it? Or if [that's] not adequate, do we need to bring forces in to establish the security to create a presence of either ISAF or the Afghan national army or police, to be able to sustain that development?
RFE/RL: Some NATO critics say you're losing the psychological battle in Afghanistan -- in which the Afghan people don't support your efforts and are not convinced that your presence in the country is benefiting them. If you could speak to the people of Afghanistan, what would you tell them?
Craddock: Well, I think I would say that there are no shortcuts in the development of the country. It will be difficult and it will take some time. But we recognize the fact that there has to be an investment in today and that's these short-term, quick-impact projects, to be able to provide the door to opportunity to the long term, for the future.
Now, the last time I was there I was told there's a new phenomenon, and that is that around the country where we have PRTs [Provincial Reconstruction Teams], there's some uneven investment. Some PRTs have many more people and resources and in other locations where there are these Provincial Reconstruction Teams the Afghan people are concerned and worried because their team doesn't have that same level, that same amount, of resources. And they feel like they're disadvantaged.
Well, the good news is that there's communication, and it's [that view] coming around the country. And they feel like, 'Wait a minute, there's some good things happening over there and over there, and we want to be part of that, too.' So our task now is to level that out, and where there have not been the [right] amount of resources provided, try to infuse, inject, and increase the amount of resources going into these other parts of the country so they feel also that they're part of this movement to the future.
RFE/RL: So you would say to people who are feeling ignored in Afghanistan to hang on, help is coming and things will get better?
Craddock: Obviously that's the intent. What we have to do is we have to figure out how to do it sooner and we have to enable, enable the Afghan government, both at the national, the provincial, at the village level, to be able to provide those services. Give them the opportunities to do that, because in the long term, that's what governments and the people will expect from the government, which is an opportunity for tomorrow.
RFE/RL: On the issues of drugs, there are important members of NATO who are participating in the Afghan mission who openly say that fighting poppy cultivation and the opium trade is not in their mandate, and they look the other way. Is there an effort within NATO to overcome that attitude among its members so there is a more unified policy throughout the country on dealing with the drug problem?
Craddock: I think that the authorities that ISAF has are adequate to assist the Afghan government in the counternarcotic, counterdrug effort. Now, again, my guidance to the commander is, make sure that all of your forces understand those authorities and that they enforce them to the full limit. And when that happens, I think you will see an even application across the country. I don't know that we need greater authorities. We do not have any authority to eradicate [poppy fields]. Fair enough. We don't have it. But we have authorities in other areas that can assist the Afghan authorities, whether they're police, or whether they're military, counterdrug, whatever. We can assist them, we need to use those to the maximum extent possible. Then, I think, we will see a positive difference.
Opium In Afghanistan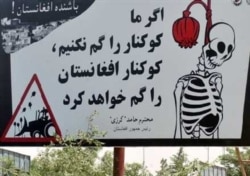 An antidrug billboard in Kabul shows a skeleton hanging from an opium bulb (AFP)
OPIUM FARMING ON THE RISE Despite a nationwide program by the Afghan government to eradicate opium-poppy fields and offer farmers alternative crops, international experts say that the 2006 opium crop will be as much as 40 percent larger than the previous year's. Afghanistan is the largest producer of opium in the world, and the source of as much as 90 percent of Europe's heroin.(more)
RELATED ARTICLES
Narcotics Supply Reduced, But Afghanistan Still Suffering
Saffron Could Help Wean Farmers Off Opium Poppies
Poppy-Eradication Drive Launched In Western Province
Insurgency Gains Ground As Poppy-Eradication Efforts Struggle
UN Drug Agency Promotes 'Alternative Development' For Curbing Poppy Cultivation
SUBSCRIBE
For weekly news and analysis on Afghanistan by e-mail,
subscribe to "RFE/RL Afghanistan Report."