Natalia Bushueva's lawyer, Sukhrob Ismalov, today said she is accused of operating without a license from the Foreign Ministry and tax evasion. Ismalov said she could face up to three years in prison.
Bushueva's mother said she had not seen her daughter for two days.
Elsa Vidal, from the Paris-based group Reporters Without Borders, told RFE/RL that Bushueva's case underlines the worsening of press freedom in Uzbekistan.
"We are very worried about her situation," Vidal said. "And we would like to underline [that] in general, the situation of press freedom in Uzbekistan is very, very looming and is worsening. So we would like to see an improvement of the situation as soon as possible."
In 2005, the BBC World Service closed its Tashkent bureau, citing official harassment, while RFE/RL's operations in the country were shut down by Uzbek authorities.
(with material from Reuters, AFP, Interfax)
'Attacks On The Press -- 2006'
'Attacks On The Press -- 2006'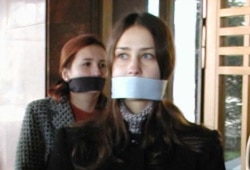 Ukrainian journalists demonstrating against censorship in December 2006 (RFE/RL)


'DOMINO EFFECT.' Two experts with the Committee to Protect Journalists told an RFE/RL-Radio Free Asia briefing on February 6 that their organization is concerned Russia's increasingly restrictive media environment is being copied by other countries in the CIS.
LISTEN
Listen to the entire briefing (about 80 minutes):

Real Audio
Windows Media
RELATED ARTICLES
New Program Finds Way Around Internet Censorship
CPJ Discusses Dangers, Obstacles Journalists Face
East: RSF Calls Iraq, Iran 'Graveyard Of Freedom'
Media Situation Worsening In Central Asia, Russia, Azerbaijan
SUBSCRIBE
For regular news and analysis on media issues throughout RFE/RL's broadcast area by e-mail,
subscribe to "RFE/RL Media Matters."