Maksim Kurochkin was fatally shot on March 27 while being escorted by police out of a courthouse where he was on trial for extortion. A policeman was wounded in the shooting.

Ukrainian Deputy Interior Minister Mykola Kupyanskyy said a sniper's rifle had been found on an upper floor in a neighboring building. He said two suspects "wearing black masks and jackets" fled the scene in a silver Mazda.
"The investigation and the search for the owner of the car is under way," Kupyanskyy said.
Kurochkin had led an organization supporting the 2004 presidential bid of Viktor Yanukovych, the current Ukrainian prime minister.
(with material from agency reports)

Viktor Yanukovych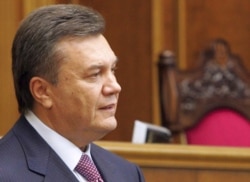 Prime Minister Viktor Yanukovych addresses Ukraine's Verkhovna Rada on August 6, 2006 (TASS)


UP FROM THE ASHES. On August 4, 2006, the Ukrainian legislature ended four months of political standoff by confirming Viktor Yanukovych as prime minister. Yanukovych's pro-Russian Party of Regions won the largest block of seats in the country's inconclusive March legislative elections. His confirmation capped a remarkable political comeback for Yanukovych after his defeat by Viktor Yushchenko in Ukraine's Orange Revolution....(more)
RELATED ARTICLES
Former President Comments On Yushchenko's Compromise
President Compromises For National Unity
Kremlin Insider Hails Developments
Former U.S. Envoy Says West Can Work With Yanukovych
ARCHIVE
RFE/RL's
coverage of Ukraine
. The website of
RFE/RL's Ukrainian Service
.


A photo gallery of political developments in Ukraine since the March 26 elections (Flash required)