Vadim Gustov, the head of the CIS Committee of Russia's upper house of parliament, the Federation Council, had a frustrating message for reporters in Chisinau on March 21 -- some of Moldova's vintage wines may return to the Russian market, but only in two months' time.
Exports were originally expected to resume at the beginning of 2007. But it now appears that Moldova will spend most of this year with no wine exports to Russia. Even once they resume, they will be highly restricted.
"In 2007, the crisis in our wine industry will be deeper than last year."
Gheorghe Cozub, chairman of the Moldovan Wine Exporters' Union, said in a February interview with the country's Infotag news agency that he believes Russia is dragging its feet.
"I just can't find another explanation for this strange situation," he said. "Two months have already passed since Moscow announced the opening of wine trade with Moldova. And although many promises were made, nothing concrete has been done."
Russia's delay in lifting the ban, and the uncertainty about what restrictions will remain once exports resume, have placed Moldova's economic prospects for this year in severe jeopardy.
Using Economic Leverage
After the collapse of communism, Moldova lost a large part of its manufacturing sector. This was due in part to economic collapse, but also to the fact that the country's industrial hub was located in the breakaway region of Transdniester. Either way, the end result was that Moldova was forced to rely even more heavily on agricultural and wine exports.
Prior to the ban, the wine industry was estimated to account for somewhere near 25 percent of Moldova's gross domestic product (GDP), with 80 percent of that wine exported to Russia.
Then, in March 2006, Russia's chief sanitation officer, Gennady Onishchenko, announced a ban on the import of Moldovan and Georgian wines. He said the wines posed a health risk because they contained pesticides, heavy metals, and other hazardous substances.
Many observers criticized the move as political retribution for both countries' pursuit of closer relations with the West.
The United States and the European Union, which both have stricter guidelines and enforcement than Russia, have continued to import Moldovan and Georgian wine.
The ban, after all, did not affect other former Soviet republics that also export wine to Russia, including Kazakhstan, Belarus, Ukraine, and Armenia. Moreover, the United States and the European Union, which both have stricter guidelines and enforcement than Russia, have continued to import Moldovan and Georgian wine.
Vlad Spanu, president of the Moldova Foundation, a Washington-based think tank, argued that the economic collapse of the 1990s left few Moldovan winegrowers with the means to purchase the fertilizers and pesticides they are now accused of using.
Moldova's response was twofold. First, it implemented new programs of standards and controls. Winemakers are now required to obtain a state certification stamp for export, and a number on the bottle allows inspectors and consumers to find the history of their wine through an online database. Moldova's government has also taken steps to codify how wine is labeled.
The deadlock was not broken, however, until Moldova threatened to block Russia's entry into the World Trade Organization. In November 2006, Moldovan President Vladimir Voronin and Russian President Vladimir Putin reached an agreement, whereby Moldova would support Russia's entry into the WTO, and Russia would lift its embargo on Moldovan wine.
Economic Repercussions
The effects of the ban have been devastating. Moldova's trade deficit with Russia ballooned to $193 million from January to November 2006, compared to an $86 million surplus during the same period in 2005.
The Moldova-Vin export agency estimated the loss in sales for the wine industry at over $180 million between March 2006 and January 2007. They also reported that Moldova's wine production dropped dramatically as well. Companies produced about 8.96 dekaliters of bottled wine in 2006, a 63-percent decrease from 2005.
The indirect effects on the economy have been even larger, since a number of other industries depend on the wine industry. Moldova's National Statistics Bureau estimates that industrial production dropped by 6.9 percent in 2006 compared to 2005. This was the first time in six years that Moldova has posted such a loss.
Lasting Impacts
Even if the ban is lifted in May, the economic impact will be felt throughout this year and into the next.
Cozub of the Moldovan Wine Exporters' Union described some of the problems facing Moldova's wine industry in the coming year. "The [raw] materials have to be immediately sold or processed, for they cannot be stored any longer," he said. "However, processing requires money -- not to mention that each month of delay adds to the wine material production costs. Personally, I think that in 2007 the crisis in our wine industry will be deeper than last year."
A similar warning came from Constantin Olaru, the director-general of the Vismos wine factory, one of the biggest of its kind in Moldova. "If we fail to resume our exports to Russia, we shall not be producing anything," he said.
How trade will be conducted, when and if it is resumed, is still unclear.
Onishchenko has already told Moldovan winemakers that they will face uniquely tough restrictions, including inspections of every batch of wine sent to the Russian border. He has also warned that not all of the companies who previously exported to Russia will be allowed to return to the market.
In addition, Moldovan winemakers will face a tough time reentering the market. While imports from other countries have not been able to completely fill the gap in the Russian market, suppliers have started to import from Greece, Australia, and other wine-producing nations.
Because of a bumper harvest in many regions of the world, Moldova's standard wine prices are not as far below those of other countries as they once were.
Russia's criticism of the safety of Moldovan wine has also had the effect of reducing confidence of potential buyers elsewhere.
As Leonid Popovich, vice president of Moldova's national association of vintners and wine dealers, said, "Moldovans must offer very favorable terms to wholesale traders in order to return into retail trade -- but even in this case, taking into account their bitter experience, they will purchase wines in small lots and very cautiously."
All of this suggests that Moldova -- already officially Europe's poorest country -- will face another difficult economic year in 2007, despite promises of increased aid from Western organizations.
(Ryan Kennedy is a PhD candidate and a Fulbright researcher from Ohio State University who recently returned to the United States after living in Moldova.)

How Much Do The Neighbors Pay?
How Much Do The Neighbors Pay?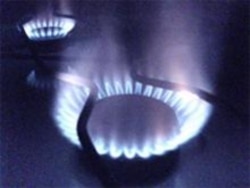 SETTING THE RATES: With Gazprom negotiating new contracts, many states will be paying more for Russian natural gas in 2007.
Belarus, following tense negotiations with Gazprom, will pay $100 per 1,000 cubic meters in -- up from $47 in 2006. Ukraine, which depends on Russia to supply it with about 77 percent of its gas, will pay $130 per 1,000 cubic meters of a Turkmen-Russian gas mix. Moldova, which depends on Russia for 100 percent of its gas, will pay $170 per 1,000 cubic meters, with the price rising to European-level market price by 2011. Georgia has agreed to pay Gazprom $235 per 1,000 cubic meters of gas.
ARCHIVE
A
complete archive
of RFE/RL's coverage of energy issues in the Caspian Sea region and Russia.