Georgia Says Russia Willing To Negotiate On Wine Ban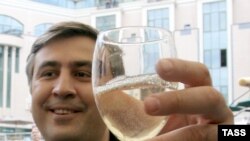 President Mikheil Saakashvili at a Georgian wine festival in the Ukrainian capital, Kyiv, in May (ITAR-TASS) August 11, 2006 -- Georgia's agriculture minister Mikheil Svimonishvili says his ministry received a letter on August 10 from Russia's chief sanitation officer, Gennady Onishchenko, offering to enter into negotiations to lift Russia's embargo on Georgian wine.
Russia imposed the ban on March 2006, saying the wine contained dangerous pesticides.
The ban has dealt a heavy blow to Georgia's economy.
(Interfax)