Baku Makes Bid For 2016 Summer Olympics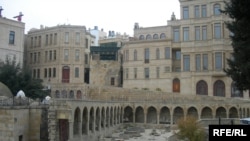 Monuments in downtown Baku (file photo) (RFE/RL) April 9, 2007 -- Azerbaijan's capital, Baku, is bidding to host the 2016 Summer Olympics.
President Ilham Aliyev made the announcement today during the opening of a sports complex in the town of Masalli, south of Baku.
"We have put forward a bid to host the Olympic Games in 2016," Aliyev said.
The gathering was attended by European Olympic Committee President Patrick Hickey.
Bid cities have until September 15 to submit a letter of interest to the International Olympic Committee (IOC), which will announce its selection for the host city in 2009.
Tokyo, Rio de Janeiro, and Prague have already announced plans to bid for the 2016 games.
(AFP)