In late March, the UN Security Council tightened its sanctions against Iran for its refusal to halt uranium-enrichment activities. It is a process can be used in civil nuclear efforts as well as a military ones.
But instead of halting the program, officials including President Mahmud Ahmadinejad on April 9 reasserted Tehran's determination to continue and expand its nuclear activities, and touted its nuclear achievements.
Today, the head of Iran's Atomic Energy Agency, Gholam Reza Aghazadeh, said his country is seeking to install up to 50,000 uranium-enriching centrifuges at Natanz.
The president was speaking at a large ceremony at the Natanz nuclear enrichment facility in central Iran, where he also called on countries to accept Iran's right and stop "bullying" it.
In the United States, spokesman Gordon Johndroe said the White House's National Security Council is "very concerned" at the Iranian announcement.
U.S. State Department spokesman Sean McComack predicted that Iran's decision to continue enrichment will have increasing "costs for the Iranian people."
The EU urged Iran to halt uranium enrichment, and UN Secretary-General Ban Ki-moon also called on Tehran to comply fully with UN demands.
Spin Doctors?
Foreign Minister Manuchehr Mottaki followed the April 9 announcement with a call today for the international community to accept the "new reality" of Iran's nuclear program.
"We think that the other side and other parties should act with the understanding of the new realities, and if they have something new to say, we have always said that we are ready to take part in complete and full negotiations, without preconditions, to find a solution to the nuclear issue," Mottaki said.
Iran's claim, if true, could mean significant progress in the country's nuclear program.
The centrifuges spin to enrich uranium hexafluoride (UF6), producing fuel for power stations or, at higher levels of enrichment, for bomb material.
Iran says it will only make fuel for energy. But many in the West are suspicious of Iran's nuclear intentions.
Some observers have cast doubt on the announcement, saying Iranian officials are exaggerating their nuclear achievements in order to generate public support and present the world with a fait accompli.
Reza Taghizadeh, a professor at the University of Glasgow in Scotland and an analyst on Iranian political affairs, told Radio Farda that Tehran has not provided evidence to support its claim.
"Iran wanted to announce that it has entered a stage where it can produce nuclear fuel on an industrial scale because it has started operating more centrifuges that are used as tool for enriching uranium and had solved some technical problems," Taghizadeh said. "But since [Iranian officials] did not announce the number of centrifuges, it is very difficult to believe that Iran has really entered the industrial stage. By making [the announcement] Iran was emphasizing that it will continue its nuclear activities."
Some Iranian officials have suggested that 3,000 centrifuges have been installed at the Natanz facility. Today, the head of Iran's Atomic Energy Agency, Gholam Reza Aghazadeh, said his country is seeking to install up to 50,000 uranium-enriching centrifuges there.
Questions Linger
News agencies have quoted David Albright, a former UN nuclear inspector, as saying that 3,000 centrifuges would be enough to build a nuclear warhead within a year. But he added that it would be very hard to believe that Tehran has been able to enlarge its centrifuge cascades so dramatically.
A nonproliferation expert with the Institute for Strategic Studies in London, Mark Fitzpatrick, described Iran's announcement as a "boast." He told the British daily "The Guardian" that he doesn't believe that Iran has 3,000 centrifuges running at Natanz, and he adding that there has been no evidence that Iranians can run test cascades in a continuous manner.
The April 9 event at Natanz was held as part of the Islamic republic's official "National Day of Nuclear Technology," which included an orchestral performance. The government had also called on schools to ring their bells and to hold special ceremonies.
Iran printed an "atomic banknote" in March to mark the country's achievement in accessing nuclear technology. The note depicts electrons in orbit around an atom on a map of Iran.
Officials in Tehran have in recent months stepped up their efforts to portray Iran's right to a nuclear program as one of their citizenry's most important and urgent rights.
Yet a number of activists in Iran have questioned the wisdom of the move. They argue that citizens have other rights that are equally important but have been ignored -- rights connected to democracy, freedom, and equal rights.
Talking Technical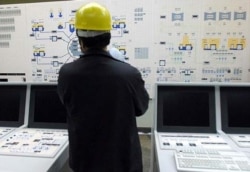 A control panel at the Bushehr nuclear power plant (Fars)

CASCADES AND CENTRIFUGES: Experts and pundits alike continue to debate the goals and status of Iran's nuclear program. It remains unclear whether the program is, as Tehran insists, a purely peaceful enegy project or, as the United States claims, part of an effort to acquire nuclear weapons.
On June 7, 2006, RFE/RL correspondent Charles Recknagel spoke with nuclear expert Shannon Kile of the Stockholm International Peace Research Institute in Sweden to help sort through some of the technical issues involved. "[Natanz] will be quite a large plant," Kile said. "There will be about 50,000 centrifuges and how much enriched uranium that can produce [is] hard to say because the efficiency of the centrifuges is not really known yet. But it would clearly be enough to be able to produce enough [highly-enriched uranium] for a nuclear weapon in fairly short order, if that's the route that they chose to go...." (more)
RELATED ARTICLES
Tehran Says It Is Working On Advanced Nuclear Fusion
Would Light-Water Reactor Suit Tehran's Needs?
Satellite Images Raise Questions About Iran's Nuclear Program
Centrifuges And Political Spin?
How Close Is Iran To Getting Nuclear Bomb?
Iran: The Worst-Case Scenarios

THE COMPLETE STORY: RFE/RL's complete coverage of controversy surrounding Iran's nuclear program.