Kuliev's death at age 71 is a major blow to the Turkmen opposition-in-exile. Kuliev had intimate knowledge of the workings of the Turkmen government that fed insightful criticism of official policies.
Turkmen opposition website "Erkin Turkmenistan" called Kuliev "the honor and conscience of Turkmenistan [who] gave his life to the battle for its freedom." It further described him as "a son of this country and of [the Turkmen] people."
Kuliev was named Turkmenistan's foreign minister after the country became independent with the collapse of the Soviet Union. He accompanied President Saparmurat Niyazov on trips abroad -- including to Mecca for the hajj, when Turkmenistan was seeking new friends in the world community.
Walked Away
But in 1992, Kuliev resigned after he and Niyazov quarreled about the course the country should take. He remains one of Turkmenistan's few postindependence officials to have left office by choice -- rather than under a cloud of corruption or abuse of office.
Nurberdy Nurmamedov is the leader of the unregistered Agzybirlik (Unity) party and is one of the few Turkmen opposition figures still inside Turkmenistan. Nurmamedov described to RFE/RL's Turkmen Service Kuliev's story after his resignation as foreign minister.
"He chose a different path, a path of opposition."
"He chose a different path, a path of opposition," Nurmamedov said. "He went to Moscow and created the Turkmenistan Fund, and he dedicated himself to the future of Turkmenistan. The work he did was not something just anyone could do."
Kuliev faced a daunting task, with little assistance as one of the only opposition figures to have escaped Turkmenistan. He eventually found work for RFE/RL's Turkmen Service in Prague, but he left to devote all his time to the opposition effort.
In 1998, President Niyazov -- whose administration had already earned a reputation of abuse with international rights and press-freedom groups -- made an official trip to Washington to meet with then President Bill Clinton.
Leading Opposition Light
Vitaly Ponomorev, a leading activist with the Moscow-based Memorial rights group, picks up the story from there.
"In 1998, I flew with him to Turkmenistan," Ponomorev said. "This was a very skillful move on his part, because the Turkmen authorities had already initiated a criminal case against him based on several articles [of the criminal code]. But when he arrived, [Turkmen authorities] feared putting him on trial [and instead] forced him to return to Moscow."
Kuliev's brief time in Turkmenistan inspired other government officials who subsequently fled Turkmenistan. It was a reminder that opposition existed, albeit from outside the country. In the years after that 1998 visit to his homeland, a number of government officials left Turkmenistan and formed their own opposition groups.
In 2002, several of those groups agreed to form the United Turkmen Opposition. Kuliev served as its leader.
From Ashgabat, Nurmamedov credited Kuliev for his role in publicizing the situation in Turkmenistan.
"Despite the fact that he faced problems after [going into opposition], he took on this responsibility and in international forums he represented the honor of Turkmenistan and fought for the rights of Turkmenistan's people," Nurmamedov said.
"He was a very open and honest person. He was always ready to admit his mistakes he had made," Ponomorev said of Kuliev. "When he lived in Russia, his home was always open and there were constantly people coming and going from Turkmenistan and just ordinary people who wanted to help the opposition movement. And he remained that open despite the betrayals and provocations that he came up against."
Kuliev's widow, Tatyana, said today that she hopes Turkmen authorities might consider the former foreign minister's last request, despite the official relationship with Kuliev in the last years of his life.
"I am appealing to the government in Turkmenistan to fulfill the last wish of the deceased that his body be buried in his native land, in Turkmenistan," she said.
Kuliev had undergone surgery on his stomach on April 8 and never regained consciousness.
Human Rights In Turkmenistan
Human Rights In Turkmenistan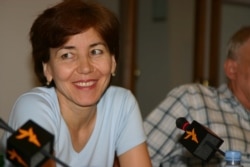 Tajigul Begmedova speaking at RFE/RL in Prague on July 21 (RFE/RL)
LIFE UNDER NIYAZOV:
On July 21, RFE/RL's Prague broadcasting center hosted a presentation by
TAJIGUL BEGMEDOVA,
chairwoman of the Bulgaria-based Turkmenistan Helsinki Foundation for Human Rights (THF). Begmedova discussed the human rights situation in Turkmenistan under President Saparmural Niyazov, focusing on the arrests in June of THF activists and RFE/RL Turkmen Service correspondent Ogulsapar Muradova. Begmedova, who graduated from the Institute of Economy in Moscow in 1987, fled Turkmenistan in 2002 and lives in exile in Sofia.
LISTEN
Listen to the complete presentation (36 minutes; presentation in Russian with consecutive translation into English):

Real Audio
Windows Media
Some RFE/RL Coverage Of Human Rights In Turkmenistan:
Media Coverage Of Leader Distracts From Real Problems
Authorities Cast Wide Net In Conspiracy Allegations
Embattled Turkmen Writer Honored Abroad
RFE/RL Correspondent Recounts Arrest
ARCHIVE
RFE/RL coverage of Turkmenistan.


THE COMPLETE STORY: Click on the icon to view a dedicated webpage bringing together all of RFE/RL's coverage of Kazakhstan, Kyrgyzstan, Tajikistan, Turkmenistan, and Uzbekistan.