Iranian President To Visit Kabul Soon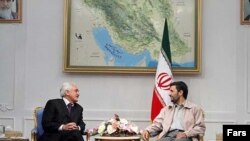 Spanta (left) with Ahmadinejad in Tehran today (Fars) KABUL, April 12, 2007 (RFE/RL) -- Afghan's Foreign Ministry said today that Iranian President Mahmud Ahmadinejad is due to visit Afghanistan in the near future, RFE/RL's Radio Free Afghanistan reported.
Foreign Ministry spokesman Sultan Ahmad Bahin told RFE/RL that details of Ahmadinejad's visit are a main topic in talks between Afghan Foreign Minister Rangin Dadfar Spanta and Iranian officials.
Spanta arrived on April 10.
The Afghan spokesman however did not give the exact date of Ahmadinejad's proposed trip.
"Issues such as the assistance of the Islamic Republic of Iran to Afghanistan, relations between the two countries, and some regional and international issues will be discussed during [Ahmadinejad's] trip to Afghanistan," Bahin said.
Ahmadinejad today discussed bilateral ties during a meeting with Spanta.
Iran and Afghanistan have been expanding their ties following the fall of the Taliban in 2001.