Tens Of Thousands Rally In Turkey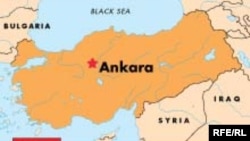 (RFE/RL) April 14, 2007 -- At least 200,000 supporters of Turkey's secular system of government rallied in the capital Ankara today to protest against a possible bid for the presidency by the prime minister, a former Islamist.
Secularists fear that Recep Tayyip Erdogan could try to undermine Turkey's strict separation of state and religion if he wins next month's vote.
The rally comes a day after President Ahmet Necdet Sezer warned that the country's secular establishment faced its greatest threat to date.
Sezer is due to step down in mid-May. Parliament will then elect the country's new president. Parliament is dominated by lawmakers from Erdogan's party.
(compiled from agency reports)