El-Baradei also said today the IAEA is ready to help Jordan acquire nuclear energy for peaceful use.
He spoke after talks in Jordan with King Abdullah II.
Israel is considered the sole nuclear power in the region. Iran is suspected of using a nuclear energy program to try to develop atomic weapons.
Nuclear Tender
Meanwhile, Iran has said it is launching a tender for offers to build two new nuclear power stations in the southern city of Bushehr.
The announcement was made today by the director of production of nuclear energy, Ahmad Fayaz Bakhsh. He said the two new plants would have a capacity of between 1,000 and 1,600 megawatts.
Bushehr is the location of Iran's first nuclear power plant, which is being built by a Russian contractor.
However its completion, due for this year, has been held up by a string of delays.
(compiled from agency reports)
The Proliferation Threat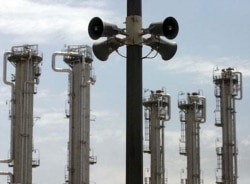 The Arak heavy-water plant in central Iran (Fars)


BENDING THE RULES. Henry Sokolski, executive director of the Nonproliferation Policy Education Center, told an RFE/RL-Radio Free Asia briefing on January 9 that the West is hamstrung in dealing with Iran and North Korea because of the way it has interpreted the international nonproliferation regime to benefit friendly countries like India and Japan.
LISTEN
Listen to the entire briefing (about 90 minutes):

Real Audio
Windows Media
RELATED ARTICLES
Iran, North Korea Present Proliferation Challenges
Tehran Watches As North Korea Tests Global Resolve
Rogue Nuclear Programs Threaten New Arms Race
Why Shouldn't Pyongyang Join Nuclear Club?