Al-Sadr's bloc said the move is an attempt to pressure al-Maliki to draw up a timetable for U.S. troops to leave the country.
Al-Maliki has welcomed al-Sadr's decision. In a statement, al-Maliki called it an opportunity to hand the six portfolios to what he called "efficient" ministers.
He said they will be chosen for their abilities, not for their religious affiliation.
Al-Maliki is now expected to move ahead with a cabinet reshuffle.
Al-Sadr's move came on April 15 after another bloody day in Baghdad, where at least 37 people died in bombings.
In January, al-Sadr's bloc ended a two-month boycott of parliament that it initiated in November 2006 to protest a meeting in Amman, Jordan, between al-Maliki and U.S. President George W. Bush.
The al-Sadr bloc leader, Nassar al-Rubaiy'i, said today that as long as U.S. forces were in Iraq, the government could not stop the violence. He said Iraqi people want U.S. troops to leave but al-Maliki's government does not listen.
"The most important reason, sadly, is the non-response of Prime Minister al-Maliki to the demonstration of a million [people], staged by the Iraqi people in the province of holy Al-Najaf, while [al-Maliki] directly demanded that the occupation forces remain," al-Rubay'i said. "And since al-Maliki gained his position as a result of a parliamentary system, he is asked to reflect the will of Iraqi people."
Al-Sadr mobilized tens of thousands of Iraqis for a peaceful demonstration in the Shi'ite holy city of Al-Najaf on April 9, the fourth anniversary of Baghdad's fall. At the rally, many participants called for a timetable for U.S. withdrawal.
Response To Crackdown
David Hartwell, an analyst with the London-based organization Jane's Information Group, says al-Sadr's move might be partly in response to the current U.S.-led surge operation to crack down on militias and increase security in the country, especially in Baghdad.
Al-Sadr is reported to be unhappy about recent arrests of some of his Imam al-Mahdi Army fighters in the crackdown.
Though the move expose cracks in the Shi'ite alliance, Hartwell says al-Sadr's decision to withdraw his bloc's cabinet members from the government is unlikely to lead to an immediate serious political crisis.
"In the longer term, you might see an increased friction within the Shi'ite movement that is governing Iraq," Hartwell says. "Although again, this is not going to be enough to cause the government to fall or any dramatic situation like that."
Al-Sadr's bloc also has 30 deputies in parliament who will remain in the legislature despite the withdrawal of the cabinet members.
In January, al-Sadr's bloc ended a two-month boycott of parliament that it initiated in November 2006 to protest a meeting in Amman, Jordan, between al-Maliki and U.S. President George W. Bush. Al-Sadr's deputies and his ministers both participated in the boycott, although none actually resigned.
But Hartwell does not rule out that al-Sadr could up pressure on the government in the future, including through violence.
"He wants a free hand and that free hand may involve more extreme solutions that he may see, such as increasing violence," Hartwell says. "That may increase particularly if he feels his al-Mahdi Army is been specifically targeted by the Americans."
U.S. officials have often described the Iman al-Mahdi Army as one of the greatest threats to security in Iraq. The militia fought two uprisings against U.S. forces in 2004.
Muqtada Al-Sadr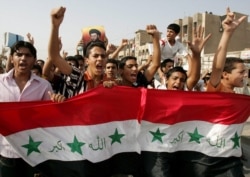 Al-Sadr supporters demonstrating against the U.S. presence in Iraq in October 2006 (epa)

A RADICAL CLERIC. Shi'ite cleric Muqtada al-Sadr is a key figure in Iraq. He heads the Imam Al-Mahdi Army militia and a political bloc that is prominent in parliament and the government. His ties to Iran have also provoked concerns in some quarters.
RELATED ARTICLES
Cracking Down On Al-Sadr No Easy Task
Political Parties Consider Uniting Against Al-Sadr
Is Al-Sadr Stirring The Pot Or Promoting Peace?
Radical Shi'ite Cleric Calls For Shi'ite-Sunni Unity
Al-Sadr Reasserts Himself -- This Time Against Coreligionists