The announcement, on April 15, came several weeks after Kabul freed five Taliban fighters in exchange for an Italian journalist kidnapped in early March. Two Afghans kidnapped along with the Italian journalist were executed by the Taliban.
Kabul is meanwhile still trying to win the release of two French aid workers and three Afghan colleagues seized by the Taliban.
Afghan Foreign Minister Rangin Dadfar Spanta said on April 15 that kidnapping could become an "industry" for Taliban fighters if authorities in Kabul continue to swap Taliban prisoners for hostages.
The United States, Germany, Britain, and the Netherlands all have denounced hostage exchanges for Taliban prisoners. They say such deals reward kidnappers and put NATO soldiers in greater danger.
"We have to do our best to prevent the use of kidnapping as a commercial sector used by the terrorists to fight against the Afghan government," Spanta said. "If you do this once or twice or more times, it becomes an industry. It wouldn't have an end."
International Pressure
The Afghan government has faced international criticism since Kabul made a deal in March for the release of kidnapped Italian journalist Daniele Mastrogiacomo.
In that exchange, Kabul freed five Taliban prisoners -- including three high-ranking Taliban commanders. But Mastrogiacomo's Afghan translator was beheaded by the Taliban when Kabul refused to free two other Taliban prisoners. Mastrogiacomo's driver also was executed by his captors.
As a result, many Afghans now accuse President Hamid Karzai of valuing the lives of foreigners more than those of Afghans.
Independent security analysts say the deal has merely encouraged more abductions.
The United States, Germany, Britain, and the Netherlands all have denounced hostage exchanges for Taliban prisoners. They say such deals reward kidnappers and put NATO soldiers in greater danger.
Some NATO officials, disturbed by reports about the Italian government's role in the hostage deal, have called for an alliance-wide pact that bans deals with kidnappers.
Aid Workers Held Hostage
Meanwhile, there are growing concerns about two French aid workers and three Afghan colleagues abducted by the Taliban in Nimroz Province on April 3.
French President Jacques Chirac has telephoned Karzai to demand support for efforts to free the workers of the nongovernmental organization Terre d'Enfance (A World for Our Children).
Terre d'Enfance describes itself as an apolitical group that promotes the rights of children and socio-cultural tolerance.
Spanta says Kabul is still using all "legitimate and possible" means to win the release of the French and Afghan aid workers.
"The Republic of Afghanistan will try our best -- and I emphasize 'our best' -- for the release of these hostages within the framework of legal possibilities," Spanta said.
Purported Taliban spokesman Yousuf Ahmadi says a "proposal" has been sent to the Taliban's "leadership council" about the French and Afghan hostages. Ahmadi says the Taliban leadership will decide the hostages' fate.
...Fearing For Their Lives
During the weekend, the Taliban released brief black-and-white video footage showing the French hostages. One man says his name is Eric, while a woman hostage identifies herself only as Celine.
"My name is Celine," she says. "I am French. I am working for a French NGO called TDE -- Terre d'Enfance. I have been kidnapped and I am now in the hands of the Taliban with Eric, Hashim, Hazrat, and Rasoul."
The video shows the French woman breaking into tears as she describes the threats made against herself and the other hostages.
"I ask the government of France, the president of France, the prime minister and the parliament to help -- to release me, Eric, and the three Afghans that are with me," she says. "Please do what they want. Do what they request because they told us that they would kill us -- they will cut our heads off and send them back to France. Please do what you can. Help us."
Spanta's pledge to refrain from hostage deals also came on the day of a theoretical deadline set by the Taliban to kill one of a five-member team of Afghan medical workers abducted in Kandahar Province on March 27.
A purported Taliban spokesman had said the doctor would be killed if the government failed to start negotiations before April 15. The Taliban says the doctor is a cousin of the governor of Nangarhar Province in eastern Afghanistan.
The Afghan Insurgency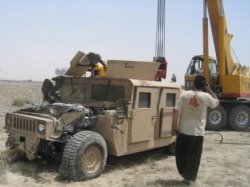 A U.S. military vehicle damaged by insurgents near Kandahar (epa)
HOMEGROWN OR IMPORTED? As attacks against Afghan and international forces continue relentlessly, RFE/RL hosted a briefing to discuss the nature of the Afghan insurgency. The discussion featured Marvin Weinbaum, professor emeritus of political science at the University of Illinois at Urbana-Champaign, and RFE/RL Afghanistan analyst Amin Tarzi.
LISTEN
Listen to the entire briefing (about 83 minutes):
Real Audio
Windows Media
ARCHIVE
RFE/RL's
coverage of Afghanistan
.
SUBSCRIBE
For weekly news and analysis on Afghanistan by e-mail,
subscribe to "RFE/RL Afghanistan Report."