Niyazova's aunt Shafoat told RFE/RL that the trial was quickly adjourned to an unspecified date.
"A lot of people were there outside the court building before 11 a.m. [when the trial was scheduled to start]," she said. "At 11:30 a lawyer came out and said the court had adjourned because they couldn't read all the tomes. Then they took Umida back. They [police and Umida] arrived at 10:30 and they left at 11:30 in an armored vehicle. You couldn't see into it [the vehicle]."
Rights groups say Niyazova has been indicted on politically motivated charges of illegal border crossing, smuggling, and distributing material that could cause public disorder by using financial support from foreign governments. She faces up to 10 years of in prison.
In a statement issued late on April 18, Freedom House -- an organization promoting democracy and freedom around the world -- called on the Uzbek government to adhere to the rule of law during the trial.
Niyazova was detained crossing into Uzbekistan from Kyrgyzstan in December last year. She was interviewing family members of victims of the violence in the eastern city of Andijon in May 2005 that left at least 189 people dead.
'Attacks On The Press -- 2006'
'Attacks On The Press -- 2006'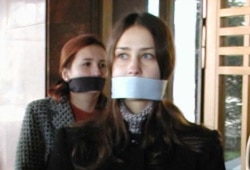 Ukrainian journalists demonstrating against censorship in December 2006 (RFE/RL)


'DOMINO EFFECT.' Two experts with the Committee to Protect Journalists told an RFE/RL-Radio Free Asia briefing on February 6 that their organization is concerned Russia's increasingly restrictive media environment is being copied by other countries in the CIS.
LISTEN
Listen to the entire briefing (about 80 minutes):

Real Audio
Windows Media
RELATED ARTICLES
New Program Finds Way Around Internet Censorship
CPJ Discusses Dangers, Obstacles Journalists Face
East: RSF Calls Iraq, Iran 'Graveyard Of Freedom'
Media Situation Worsening In Central Asia, Russia, Azerbaijan
SUBSCRIBE
For regular news and analysis on media issues throughout RFE/RL's broadcast area by e-mail,
subscribe to "RFE/RL Media Matters."