Oralgaisha Omarshanova (also known by the name Zhabagtaikyzy) is a 39-year-old reporter for the Russian-Kazakh weekly newspaper "Law And Justice," based in the Kazakh capital, Astana.
She traveled to the Almaty region at the end of March to cover a story on recent clashes between Kazakhs and ethnic Chechens in the villages of Malovodnoye and Kazatkom. Omarshanova reportedly secured a ride on March 30, but she never arrived and has not been heard from since.
Death Threats
Fellow journalist Mukhit Iskakov told a press conference in Almaty on April 18 that Omarshanova had taken threats against her life seriously.
"Oralgaisha told me that she had received several threats by telephone," he said. "After that, she got a license and bought a Winchester rifle in Qaraganda. She officially registered it in Astana, and then we moved to Almaty together."
Omarshanova had already begun publishing articles about the billiard-room brawl that eventually led to the death of five people and shocked her ethnically diverse country.
Omarshanova's stories were about one of the ethnic-Chechen families involved in those clashes, including their alleged links to organized crime. The articles also alleged that the family had connections to some government officials and businesses.
After her disappearance, friends and relatives searched in vain before turning to others for help.
On-Going Search
Kazakhstan's press freedom organization, Adil Soz, finally made public the news of Omarshanova's disappearance on April 17. Lawmakers have since called on prosecutors, the Interior Ministry, and the National Security Committee to take control of the case and intensify the search.
Kazakh Interior Ministry spokesman Bagdat Kojhakhmetov told RFE/RL's Kazakh Service on April 18 that the search for the missing journalist is under way. But he said it has so far yielded no clues.
"We have been looking for her for many days," Kojhakhmetov said. "We don't have any information on her whereabouts yet. As soon as we have something, we will let the public know."
Adil Soz suggests that Omarshanova is the first journalist to have disappeared in Kazakhstan.
(RFE/RL Kazakh Service Director Merkhat Sharipzhan contributed to this report.)
Kazakhstan's Fallen Opposition
Kazakhstan's Fallen Opposition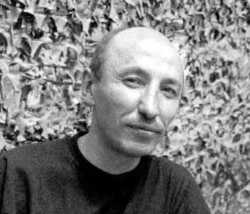 Slain Kazakh journalist Askhat Sharipzhanov (undated RFE/RL file photo)
February 13, 2006:
Altynbek Sarsenbaev
-- a leader of the Kazakh opposition, co-chairman of the Naghyz Aq Zhol party, former minister of information, former Kazakh ambassador to Russia, former secretary of Kazakhstan's Security Council -- is found dead with his bodyguard and his driver, shot to death, execution style, with their hands bound behind their backs.
November 11, 2005: Zamanbek Nurkadilov-- prominent Kazakh politician, former mayor of Almaty, former Minister of Extraordinary Situations, and since a vocal critic of President Nursultan Nazarbaev since March 2004 -- is found shot to death, with two shots in his chest and one in his head. Kazakh authorities officially rule the case a suicide.
June 2, 2005: Batyrkhan Darimbet -- opposition journalist and editor in chief of the weekly AZAT -- is killed in what is officially reported as a traffic accident. Relatives and activists assert that it was a political killing.
December 19, 2004: Erzhan Tatishev -- head of Kazakhstan's largest bank, TuranAlemBank -- is killed in what was officially described as a hunting accident. Kazakh political observers allege that it was a premeditated assassination.
July 20, 2004: Askhat Sharipzhan-- independent journalist and political commentator for NAVI online -- dies of injuries sustained several days earlier in what was officially reported as a hit-and-run accident. Relatives and colleagues believe it was an assassination.
November17, 2002: Independent journalist Nuri Muftakh is killed in what is officially reported as a traffic accident. Colleagues and activists regard the death as suspicious.
January 4, 2002: Human rights activist Aleksei Pugaev is found dead, the victim of a hit-and-run car accident. Colleagues regard the circumstances as suspicious and no one is ever arrested in connection with the death.
(compiled by RFE/RL's Kazakh Service)
RELATED ARTICLES
Sarsenbaev Murder Trial Begins
Kazakh President Tries To Calm Growing Political Crisis
Nazarbaev Landslide Buries Future Problems
Nazarbaev Touts Stability In Run-Up To Election
ARCHIVE
To view an archive of RFE/RL's coverage of Kazakhstan, click here.

SUBSCRIBE
For weekly news and analysis on all five Central Asian countries by e-mail, subscribe to "RFE/RL Central Asia Report."