Musharraf Urges Karzai To Stop Criticism Of Islamabad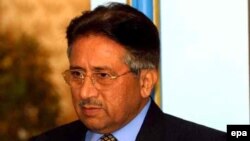 Musharraf warns that distrust could damage the war effort (file photo) (epa) April 22, 2007 -- Pakistan's President Pervez Musharraf called today for an end to accusations from the Afghan leadership about alleged Taliban activities on Pakistani soil.
Musharraf said there is no truth in such accusations, and warned that they could sow distrust that would be damaging to the U.S.-led coalition fighting against Al-Qaeda and Taliban militants.

Musharraf is due to meet Afghan President Hamid Karzai in Turkey later this month. He said today he hopes that meeting will reduce Pakistani-Afghan tensions.
(Reuters)