Rice Urges Iran To Attend Iraq Conference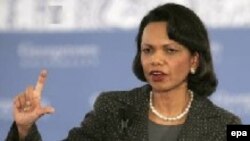 Secretary Condoleezza Rice (file photo) (epa) April 23, 2007 -- U.S. Secretary of State Condoleezza Rice has urged Iran to take part in a meeting next month in Egypt on how to end the Iraq war.
In an interview published in today's "Financial Times," Rice said it would be a "missed opportunity" if Tehran failed to attend. Rice also denied Washington's Iran policy had been directed at "regime change."
On April 22, the Iranian Foreign Ministry said Iran had not yet decided whether to attend the conference. Spokesman Mohammad Ali Hosseini said a final decision will be made after a meeting of the Iranian and Iraqi foreign ministers in the coming week.
The conference in Egypt on May 1-4 includes the five permanent members of the UN Secutity Council, plus Syria, Turkey, and others.
(Reuters, "Financial Times," dpa)