Lukashenka made the remarks during his annual address to Belarus' legislature.
"Maintaining our country's independence and stable development is possible only by pursuing a dynamic, multifaceted foreign policy," Lukashenka told the parliament. "Belarus is involved actively in international trade and bilateral relations with many countries, and that has a direct impact on the condition of our domestic markets and the social and economic spheres."
Belarus' traditionally close relations with Moscow have cooled since Russia raised energy prices earlier this year.
Lukashenka said Russia continues to be one of Belarus' "most important priorities." But he criticized what he called "openly unfriendly actions" from Moscow, saying they have "dealt a painful blow to our relations."
Lukashenka said Belarus planned to seek alternative energy supplies from Venezuela, Iran, and Azerbaijan. He also said Belarus wanted to develop stronger ties with Ukraine, Kazakhstan, and China.
He told the legislature said Minsk would go ahead with plans to build a nuclear power plant to increase energy independence.
Lukashenka also said that while Belarus wants "normal and mutually advantageous relations" with the United States and the European Union, Minsk would "not beg the EU or the U.S. for anything."
(with material from agency reports)
Politics In Belarus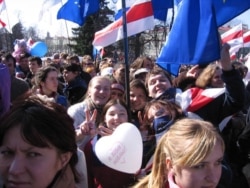 Demonstrators in Minsk on March 25 (RFE/RL)

WHAT HAPPENED? Belarus scholar Vitali Silitski and RFE/RL Belarus analyst Jan Maksymiuk took a look a how Belarus has changed since mass demonstrations in Minsk in March 2006 failed to produce meaningful change in that country.
LISTEN
Listen to the entire briefing (about 70 minutes):

Real Audio
Windows Media
RELATED ARTICLES
Has Regime Adopted New Tactics Toward Opposition?
Lukashenka Is Firmly In His Saddle, Despite A Bumpier Road
Why Can't Belarus's Opposition Just Get Along?
SUBSCRIBE
For weekly news and analysis on Belarus, Ukraine, and Moldova by e-mail,
subscribe to "RFE/RL Belarus, Ukraine, And Moldova Report."