Why is such a campaign needed when the political opposition is a pale shadow of its former self and the mass media is politically neutered?
The obvious explanation is that the 2008 presidential election is nearing. But another possibility is that the Kremlin has launched such a powerful anti-Western campaign in the mass media that Russian policymakers themselves have started to believe that "outside forces" are indeed behind all protest in Russia. In other words, the Kremlin has started to believe its own propaganda.
Overreaction?
Some analysts have suggested that the St. Petersburg police "overreacted" to the March of Dissent demonstrators because President Vladimir Putin was in town and they feared his wrath if order on the streets was not maintained.
During the St. Petersburg demonstration, Putin was in the city watching a wrestling match with former Italian Prime Minister Silvio Berlusconi and movie actor Jean-Claude Van Damme. Eyewitnesses said that during the contest Interior Minister Rashid Nurgaliyev approached Putin a couple times, allegedly to report on the situation.
Also contributing to the brutality of the police action was the personnel used. The Kremlin used members of the special anti-riot OMON police from the regions to disperse the demonstrations.
These officers traditionally hate residents of both Russian "capitals." Participants in the Moscow demonstration told RFE/RL that some security forces admitted they were told they were being used to disband a gay-rights parade.
Kremlin Campaign
There was nothing accidental about the police suppression. It coincided with a new anti-Western media campaign that Kremlin officials launched partly in response to the April 5 U.S. State Department report on U.S. democracy-promotion experts. That annual report again gave Russia low marks, noting an "erosion of civil society."
A consistent theme of this anti-Western campaign has been that "outside forces" sponsor all protests in the country. On April 13, State Duma Speaker Boris Gryzlov called participants in the demonstrations "provocateurs" and announced the creation of a parliamentary working group to investigate "who stands behind [the protests] and with whose funds they were organized."
Russian lawmakers the same day adopted a resolution condemning U.S. help for NGOs in Russia, which stated, "We believe that the U.S. position...is a veiled attempt to put pressure on Russia ahead of elections."
The next day, Sergei Markov, director of the Institute of Political Studies, which is closely linked to the Kremlin, expanded on this theme in an interview with the Ekho Moskvy radio station. He said "tough measures were necessary."
"We brought a lot of OMON forces to show the toughness of the government," he added. "To demonstrate that the government will not retreat as [Ukrainian President Leonid ] Kuchma did by surrendering his power to [Orange Revolution allies] Viktor Yushchenko and Yuliya Tymoshenko or to retreat from power as [former President Askar] Akaev did in Kyrgyzstan. Do we want our government to surrender and give [the anti-Putin opposition] an opportunity to win on the street?"
Crowd Control
Gleb Pavlovsky, a political adviser to the head of the pro-Kremlin administration, suggested in an interview with "Moskovsky komsomolets" on April 14 that with their efforts to prevent and ultimately derail the demonstrations organized by the anti-Putin opposition, the Kremlin employed the entire arsenal of techniques of the intelligence service, from direct coercion to provocation and appeasement.
"The Kremlin was experimenting with its attitude toward demonstrations: from direct dispersal of the demonstration in St. Petersburg, to selective isolation of the leaders of the demonstration in Nizhny Novgorod, to permission to hold [April 8] demonstrations in Moscow," Pavlovsky said.
In Nizhny Novgorod, some protest organizers were detained, while others were not, causing suspicion to fall on those who were not arrested: Were they perhaps cooperating with the Federal Security Service, the FSB?
The police and the FSB in that city also used "provocation." For example, during the March 3 protest organized by the Other Russia opposition political bloc, provocateurs carried signs invoking the Kremlin's designated enemies: "Berezovsky, We Are With You" and "Bush, Help To Save Democracy In Russia."
Limited Exposure
The tough measures against anti-Putin demonstrations have been accompanied by new restrictions against the few remaining alternative mass media outlets. For example, this month, the popular Internet daily, gazeta.ru, got an official warning for its interview with Eduard Limonov, the leader of National Bolshevik Party. The party is a constituent of Other Russia and is banned by law.
Another target of the new restrictions has been the Russian News Service (RNS), which provides programming to Russian Radio, Radio Monte Carlo, and several other broadcasting outlets. Altogether, it has a national audience of more than 8 million. This month, the pro-Kremlin television Channel One sent emissaries there to assume managerial positions within RNS.
The new managers announced new rules of the game. They said that former Prime Minister Mikhail Kasyanov, opposition leader and former world chess champion Garry Kasparov, and Eduard Limonov should not be featured as newsmakers nor be invited into the studio as guests. They should only be referred to as "radical liberals."
Approved newsmakers include only the leaders of Unified Russia, the Public Chamber, and loyalist human rights officials, such as Vladimir Lukin and Ella Pamfilova.
Other edicts issued reportedly included the order that at least 50 percent of the content of news should be "positive." In addition, whatever journalists broadcast, they should remember a key mantra -- that America is an enemy.
TV-Tsentr's political news show, "Fighters Club," also faced restrictions and was ultimately shut down for failing to follow Kremlin guidelines. According to the show's host, Aleksei Navalny, deputy presidential administration head Vladislav Surkov and Aleksei Chesnakov, who heads of the presidential administration's information department, cleared participants and topics for the show in advance.
When Navalny deviated from the approved guidelines, the show was taken off the air. Navalny also revealed that he was warned about existence of so-called "blacklists" of people the Kremlin did not want on the air.
TV Is "Nuclear Weapon"
As with the crackdown on demonstrators, Sergei Markov has also defended the Kremlin's policies toward the media. He admitted to Ekho Moskvy that he views television as an effective propaganda tool.
"In these conditions in Russia, with our weak and fragile political parties," he said, "television is a nuclear weapon. And now people say it would be good if different people could use this weapon. But that is threatening. True, [television management] does not want to have problems, so they have gotten rid of all politics from television, leaving only entertainment."
But not everyone has reacted to the pressure by giving up and retreating. Last week, more than three dozen leading human rights activists appealed to the United States and European Union to impose a visa ban on Russian officials deemed to be responsible for arbitrary police actions against the opposition.
Lyudmila Alekseyeva, the head of the Moscow Helsinki Group, told reporters in Moscow on April 19 that such officials include Moscow Mayor Yury Luzhkov and St. Petersburg Governor Valentina Matviyenko. Putin himself was apparently not included.

The Kremlin's Fallen Foes
The Kremlin's Fallen Foes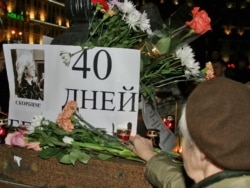 Mourners in Moscow mark the 40th day after the killing of investigative journalist Anna Politkovsksya on November 15 (TASS)

DANGEROUS DISSENT. A surprising number of vocal critics of the policies of Russian President Vladimir Putin have been killed or have died mysteriously in recent years. Although the Russian government has denied any involvement in any of the cases, some Kremlin watchers have begun speaking of a clandestine campaign to eliminate dissent.
April 17, 2003: Sergei Yushenkov, veteran liberal politician, Duma member, and leader of a staunchly anti-Kremlin party, is shot dead in Moscow.
July 3, 2003: Yury Shchekochikhin , liberal lawmaker and investigative journalist, dies of a mysterious allergic reaction. Many believe it was a case of deliberate poisoning, but the incident was never investigated as a murder.
February 13, 2004: Former acting Chechen President Zelimkhan Yandarbiyev is killed in an explosion in Doha, Qatar. Two Russian security-service agents are later convicted of carrying out the killing.
September 2, 2004: Investigative journalist Anna Politkovskaya falls ill mysteriously on a plane bound for the North Caucasus. Politkovskaya was heading to Beslan, North Ossetia, in a bid to negotiate the release of schoolchildren being held hostage there by Chechen militants.
December 2004: Former Ukrainian Prime Minister Viktor Yushchenko , running for president as a pro-Western candidate against Prime Minister Viktor Yanukovych, is poisoned. He recovers and goes on to win the presidency, although his poisoning remains a mystery.
October 7, 2006: Investigative journalist and vocal critic of Russian policies in the North Caucasus Anna Politkovskaya is gunned down in Moscow.
November 23, 2006: Former Federal Security Service agent Aleksandr Litvinenko, a vocal critic of Russia's secret services, dies of a mysterious poisoning in London.
CHRONOLOGY
An annotated timeline
of high-profile killings in Russia since the collapse of the Soviet Union.
SUBSCRIBE
For news and analysis on Russia by e-mail,
subscribe to "RFE/RL Russia Report."