Solana made the remark during a debate at a Brussels forum on trans-Atlantic relations. He said it remains unclear "how far the U.S. is willing to engage" with Iran.
Solana had meetings with Ali Larijani, Iran's top nuclear negotiator, in Ankara on April 25 and April 26.
More talks between EU officials and Iran have been planned for May.
The United States had not had formal diplomatic relations with Iran since the 1979-1981 hostage crisis when 52 Americans were seized by Iranian students from the U.S. embassy in Tehran and held hostage for 444 days.
Responding to Solana's comments, White House National Security Spokesman Gordon Johndroe said Washington is ready to hold talks with Iran for the first time in 27 years.
But Johndroe said the administration of U.S. President George W. Bush insists that Iran must first suspend its uranium-enrichment and reprocessing activity.
Iran has rejected demands from the United States, the European Union, and the United Nations Security Council to halt uranium-enrichment work.
Tehran says it has the legal right to carry out uranium enrichment for nuclear power generation under the Nuclear Nonproliferation Treaty. Iran denies it is involved in any effort to build nuclear weapons.
(compiled from agency reports)
The Proliferation Threat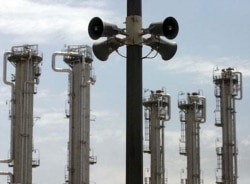 The Arak heavy-water plant in central Iran (Fars)


BENDING THE RULES. Henry Sokolski, executive director of the Nonproliferation Policy Education Center, told an RFE/RL-Radio Free Asia briefing on January 9 that the West is hamstrung in dealing with Iran and North Korea because of the way it has interpreted the international nonproliferation regime to benefit friendly countries like India and Japan.
LISTEN
Listen to the entire briefing (about 90 minutes):

Real Audio
Windows Media
RELATED ARTICLES
Iran, North Korea Present Proliferation Challenges
Tehran Watches As North Korea Tests Global Resolve
Rogue Nuclear Programs Threaten New Arms Race
Why Shouldn't Pyongyang Join Nuclear Club?