It was designed and built by French architect and landscape artist Samuel Craquelin and consists of a pathway marked by 23 white stones bearing the names of over 1,800 journalists killed since 1944 while trying to keep the public informed. Oguljamal Yazliyeva, the director of RFE/RL's Turkmen Service, attended the opening ceremony.
RFE/RL:
Please describe for us today's ceremony in Bayeux?
Oguljamal Yazliyeva:
Today's ceremony in Bayeux, which is near Paris, was dedicated to the journalists killed in 2006 and it was organized by the mayor of Bayeux and Reporters Without Borders. Relatives of killed journalists, their friends, and colleagues made some speeches and the memorial slab with the names engraved was opened by the participants of the ceremony. On the slab, which is white, 83 names were engraved. All in all, 1,884 journalists have been killed since 1944.

RFE/RL:
Among them is Ogulsapar Muradova, our colleague from your service, RFE/RL's Turkmen Service, who died while in custody in Turkmenistan. Is her name now carved in stone as part of the memorial?
Yazliyeva:
Yes, on the stone, which was erected today, Ogulsapar Murodova's name is on it. Our broadcasting director, Michele DuBach, made a speech. She thanked the organizers of the memorial and at the same time stated that the situation in Turkmenistan, not only in Turkmenistan, in [other] areas that we broadcast to, the situation regarding the freedom of speech -- freedom of media -- is tough. She mentioned our latest concerns regarding our correspondents in Turkmenistan; some are missing, some are being harassed by the authorities.

RFE/RL:
This ceremony probably means a lot to you as Muradova was a correspondent with your service and now, as you mentioned, other Turkmen correspondents are facing pressure from the authorities.

Yazliyeva:
Yes, this ceremony is special for me and for our service in general because the Turkmen journalist's name is on the memorial and it is very meaningful; it attracts the attention of the public to the situation in Turkmenistan.
RFE/RL:
As you said earlier, other participants in the ceremony were also friends and colleagues of journalists who were killed while doing their job. What was the mood there? It must have been very emotional.
Yazliyeva:
Yes, it was very emotional and some people, very close family members [of slain journalists], were crying, it's very hard to see the situation.

RFE/RL:
What are the concerns and hopes of the people who attended today's ceremony?
Yazliyeva:
First of all, the concern is that the number of killed journalists is growing. For example, in 2005 it was 63 and last year it was 83; if we look at the very beginning of the 21st century -- 2001, 2002 ,2003 -- every year the number is growing. It is very, very hard to accept and the participants emphasized this growing number and they were saying that they will do their best to protect journalists.
Remembering Anna Politkovskaya
Remembering Anna Politkovskaya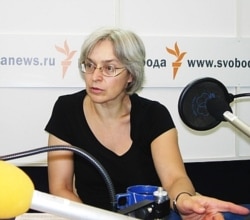 Anna Politkovskaya at RFE/RL in July 2006 (RFE/RL)
A BRAVE VOICE SILENCED. Prominent Russian journalist Anna Politkovskaya was killed on October 7 in her Moscow apartment building. An outspoken critic of the Kremlin, she was best-known for her reporting on the conflict in Chechnya. Former Soviet President Gorbachev called her slaying "a true political homicide, a vendetta."
Chechens Mourn Politkovskaya As 'Last Hope'
Politkovskaya Investigating Chechen Torture At Time Of Death
Two Journalists Die In Contract Killings A Year
SUBSCRIBE
For regular news and analysis on media issues throughout RFE/RL's broadcast area by e-mail,
subscribe to "RFE/RL Media Matters."