The CPJ on February 5 issued its annual report -- "Attacks On The Press In 2006" -- on the dangers journalists face while to inform the public in much of the world. Two CPJ's researchers gave a presentation at RFE/RL's Washington office on February 6. Nina Ognianova, CPJ program coordinator for Europe and Central Asia, was present, and Kristin Jones, a research associate for Asia, spoke from the committee's headquarters in New York.
Focus On Russia
The largest problem, according to Ognianova, is Russia, where 13 journalists have been killed since Vladimir Putin became president in 2000. What's as chilling as the deaths, she said, is that only three people have been prosecuted in connection with the slayings, and there have been no convictions.
Ognianova said this "culture of impunity" has devastating and wide-ranging consequences.
"This culture of impunity -- this failure to solve these killings, along with the institutional secrecy that's wrapping the official investigations -- has had the intended chilling effect on coverage of sensitive subjects in Russia."
"This culture of impunity -- this failure to solve these killings, along with the institutional secrecy that's wrapping the official investigations -- has had the intended chilling effect on coverage of sensitive subjects in Russia: sensitive subjects such as corruption, such as human rights abuses," Ognianova said. "Impunity, of course, breeds self-censorship and sends the sinister message that murderers can go unpunished and that silencing opponents gangland-style is not only effective, but also acceptable."
Ognianova said the impunity in Russia has had a "domino effect" in its former Soviet neighbors, particularly in Azerbaijan, Belarus, and Turkmenistan.
But impunity isn't the only obstacle journalists face in Russia, Ognianova said. She noted that the central government controls all national broadcasting and is "moving successfully into the print sector."
Yet Ognianova said the CPJ is encouraged by Putin's remarks on February 2 praising investigative journalist Anna Politkovskaya, who was gunned down in Moscow in October 2006. Putin said his government will protect journalists in Russia.
More Of The Same In Turkmenistan
Turkmenistan is of special interest to the CPJ, Ognianova said, because its an isolated country. She noted that RFE/RL correspondent Ogulsapar Muradova died in government custody in September.
Ognianova noted that although long-time Turkmen leader Saparmurat Niyazov died in December, his totalitarian policies probably will endure.
"The successor of Niyazov -- [Gurbanguly] Berdymukhammedov -- has also pledged to follow on his predecessor's path, and we're expecting that the censorship of the information and of the media will continue, unfortunately," she said.
Ognianova expressed concern about efforts by European governments to force reporters to identify their confidential sources. She said such cases are occurring mostly in Western Europe -- she mentioned the Netherlands, Denmark, and Germany -- as well as in Lithuania.
The Afghanistan-Pakistan Border Area
Asia, meanwhile, faces great challenges as well, according to Jones, who spoke to the Washington forum by teleconference from New York. She expressed concern for journalists' ability to cover the fighting in Afghanistan.
Jones said that in 2006 the CPJ watched conditions "disintegrate" along the Afghan-Pakistani border, where journalists have been trying to cover the resurgent Taliban and their renewed fighting with NATO forces.
"On the Afghanistan side [of the border], journalists saw that they're facing threats from all sides -- from the Taliban, from the drug lords, from the armed forces," Jones said. "On the Pakistan side, journalists in the federally administered tribal areas near the border of Pakistan have been driven out. Foreign journalists...have not been allowed to visit the area in several years. Local journalists have also been driven out. There's been a series of detentions, of abductions and murders."
Jones said eight journalists have been killed in Pakistan since the much-publicized slaying in 2002 of Daniel Pearl of the U.S. newspaper "The Wall Street Journal." She said four of them died near the Afghan border.
China And North Korea
Also of concern is China. Jones said President Hu Jintao has not only managed to impose his will on the country's indigenous reporters and editors, but also has impeded the work of journalists representing foreign media. She said China also has had considerable success in limiting its citizens' access to the Internet.
Jones noted that in 2006, at least 19 journalists were behind bars in China because of their work.
But even worse than China, Jones said, is North Korea, a Stalinist state where essentially there are no journalists to challenge the government of Kim Jong-il.
"North Korea is basically a 'black hole,'" Jones said. "There's very little of any information that comes out of North Korea. All of the media is [producing] state controlled propaganda, and foreign journalists are only rarely allowed to visit, and they under very restricted circumstances. So there's really very little reporting."
'Attacks On The Press -- 2006'
'Attacks On The Press -- 2006'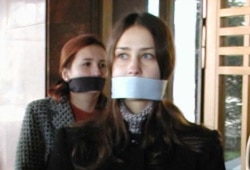 Ukrainian journalists demonstrating against censorship in December 2006 (RFE/RL)


'DOMINO EFFECT.' Two experts with the Committee to Protect Journalists told an RFE/RL-Radio Free Asia briefing on February 6 that their organization is concerned Russia's increasingly restrictive media environment is being copied by other countries in the CIS.
LISTEN
Listen to the entire briefing (about 80 minutes):

Real Audio
Windows Media
RELATED ARTICLES
New Program Finds Way Around Internet Censorship
CPJ Discusses Dangers, Obstacles Journalists Face
East: RSF Calls Iraq, Iran 'Graveyard Of Freedom'
Media Situation Worsening In Central Asia, Russia, Azerbaijan
SUBSCRIBE
For regular news and analysis on media issues throughout RFE/RL's broadcast area by e-mail,
subscribe to "RFE/RL Media Matters."