The reports coincide with mounting public pressure on President Hamid Karzai and his international allies over noncombatant deaths as a violent insurgency continues.
The U.S. investigation was triggered by reports that at least 40 civilians died in western Afghanistan this week after U.S. special forces called in air strikes and an AC-130 gunship attack on Taliban positions.
The top U.S. commander in Afghanistan, General Dan McNeil, said initial evidence suggested that "only firing insurgents were targeted" by his forces.
"The New York Times" quoted McNeil acknowledging the "allegations of civilian casualties" and saying it is "regrettable" if there have been such deaths.
Local officials say at least 42 villagers -- including women and children -- were killed in the Shindand district of Herat Province.
But he added that there are "a lot of allegations [but] not a lot of substantiation."
Anger In The Province
Provincial officials say at least 42 villagers -- including women and children -- were killed during the operation in the Shindand district of Herat Province. Another 50 people were reportedly injured in the air strikes.
The casualties had led to anger among some of the region's residents, who on April 30 stormed government buildings and called for a halt to the aerial bombardment and all military operations in the area.
Also this week, about 500 university students torched a flag in the eastern Nangarhar Province. They alleged that six civilians were killed by U.S.-led coalition troops on April 29.
...And Elsewhere
On May 2, President Karzai warned that the Afghan public's patience was wearing thin.
"We can no longer accept these [civilian] casualties," Karzai said. "The Afghan nation has the right to complain. The Afghan nation should first complain to its government, because it's our duty. I'm busy dealing with it on a daily basis. Today, we also had a very serious meeting with our foreign guests and those who cooperate with us whom I had invited, and we tried to find better ways to coordinate in this area."
Karzai had previously expressed concern over civilian deaths on several occasions.
After Karzai's most recent warning, NATO forces vowed to boost coordination with Afghan authorities to avoid civilian deaths.
'Improving Processes'
A spokeswoman for the NATO-led International Security Assistance Force (ISAF), Lieutenant Colonel Maria Carl, was quoted on May 3 as stressing of civilian deaths and Afghan concerns that "there is absolutely room for additional coordination." The spokeswoman also said the ISAF, the coalition forces, and the government are seeking news ways "to improve [those] processes."
Observers say anger has been mounting in Afghanistan over civilian deaths during U.S. and NATO operations against insurgents and suspected terrorists.
NATO officials vowed at the start of this year to make reducing civilian deaths a priority as their six-year military campaign to rid Afghanistan of Taliban and Al-Qaeda
A spokesman for Afghanistan's Independent Human Rights Commission, Nader Nadery, has warned that there is a danger the rising casualties will play into the hands of the Taliban movement's efforts against the government and foreign troops.
In April, two human rights groups warned that Afghan civilians are increasingly bearing the brunt of conflict in their country. Amnesty International and Human Rights Watch accused Taliban militants of intentionally targeting civilians.
They also criticized the U.S. military, NATO-led combat troops, and Afghan government troops for conducting operations carelessly or too closely to heavily populated areas.
(compiled from agency reports)

FURTHER READING
NATO's Challenges

The man who is overseeing the NATO mission in Afghanistan, General John Craddock, talks to RFE/RL about plans for increasing security.

more

Taliban Increasingly Target Civilians

Two international human rights groups recently issued reports warning that Afghan civilians are increasingly bearing the brunt of conflict.

more
The Afghan Insurgency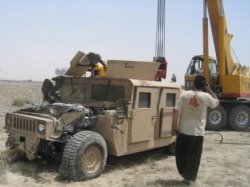 A U.S. military vehicle damaged by insurgents near Kandahar (epa)
HOMEGROWN OR IMPORTED? As attacks against Afghan and international forces continue relentlessly, RFE/RL hosted a briefing to discuss the nature of the Afghan insurgency. The discussion featured Marvin Weinbaum, professor emeritus of political science at the University of Illinois at Urbana-Champaign, and RFE/RL Afghanistan analyst Amin Tarzi.
LISTEN
Listen to the entire briefing (about 83 minutes):
Real Audio
Windows Media
ARCHIVE
RFE/RL's
coverage of Afghanistan
.
SUBSCRIBE
For weekly news and analysis on Afghanistan by e-mail,
subscribe to "RFE/RL Afghanistan Report."