EU Welcomes Reported Deal On New Serbian Government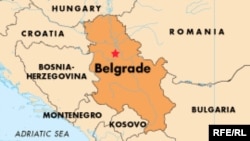 (RFE/RL) May 11, 2007 -- The European Commission has hailed "good progress" toward the formation of a pro-Western government in Serbia and advanced the prospect of closer ties between Belgrade and the European Union.
Serbian state television earlier reported that moderate parties have reached a power-sharing deal to form a new government and see off the threat of radical nationalists coming back to power. An official announcement is expected shortly.
The deal comes after the West expressed concerns over the recent election of ultranationalist Tomislav Nikolic as parliament speaker.
In a statement issued after the television report, EU Enlargement Commissioner Olli Rehn said, "I have learned of good progress in forming a new reform- and Europe-oriented government in Serbia."
Rehn said Serbia's negotiations on joining the EU could be revitalized immediately if such a government was formed.
(compiled from agency reports)

SUBSCRIBE
For a regular review of politics, media, and RFE/RL broadcasts in the western Balkans,
subscribe to "RFE/RL Balkan Report."