A spokeswoman for the Central Election Commission, Tsovinar Nazarian, said the ruling Republican Party won about 40 percent of the vote, and two other pro-government parties won another 35 percent combined.
The main opposition party, Law-Based State, won about 6 percent of the vote, clearing the 5 percent barrier to representation in the 131-seat National Assembly.
Sixty percent of the votes have been counted so far. Final results were expected to be announced later today.

Opposition parties complained that the vote was marred by fraud, but electoral authorities said there were no major violations.
Vladimir Rushailo, the head of an observer mission from the Commonwealth of Independent States (CIS), also said the elections appear to have been conducted in a way that was "open, transparent, and fair."
The International Election Observation Mission deployed in Armenia concluded that the vote demonstrated improvement from previous ones and was largely in accordance with international commitments. But it said there were some issues that remain unaddressed.
That observation team is a joint undertaking of the Organization for Security and Cooperation in Euopre (OSCE), the Parliamentary Assembly of the Council of Europe (PACE), and the European Parliament.
Meanwhile, two radical opposition parties, "New Times" and "Republic," together staged a rally in Yerevan to protest the official results.
Neither party gathered enough votes to win seats in the legislature. They condemned the ballot as fraudulent, alleging that the pro-government parties had bribed voters across the country.
RFE/RL's correspondent in Yerevan reports that another opposition group, "People's Party of Armenia," also joined in the protest. Thousands of opposition supporters could be heard chanting "impeachment" in unison.
The leader of another opposition party, "Country of Law" headed by former parliamentary speaker Artur Baghdasarian, also condemned the May 12 vote.
It issued a statement alleging there were serious election violations -- including intimidation of voters and bribes on massive scale. The Country of Law party won seats in the legislature but said it will go to court to challenge the official results.

(RFE/RL's Armenian service contributed to this report)
Perspectives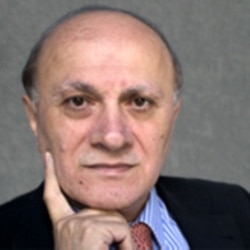 What's At Stake In Parliamentary Vote?
By Harry Tamrazian, director, RFE/RL's Armenian Service
Will Armenia have free and fair elections? Ask that question anywhere from the streets of Yerevan to a remote country village and the answer will usually be 'no.'
There have been 10 national polls since Armenian gained independence. Of those, eight failed to meet international standards for a clean and democratic vote. The sole exceptions came early on -- a referendum on independence and the first presidential elections, both in 1991." more