Georgian Prime Minister Blames Separatists For Violence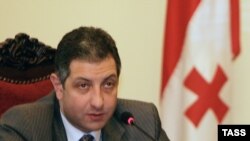 Zurab Noghaideli (file photo) (ITAR-TASS) May 14, 2007 -- Georgian Prime Minister Zurab Noghaideli has blamed South Ossetian separatist leaders for recent violence in the breakaway region.
Noghaideli said the international community must take "an active stance" to prevent further unrest.
South Ossetia's separatist government also called on the international community to help ease tensions.
Two people were wounded in violence in South Ossetia on May 12.
The violence came a day after South Ossetian authorities blockaded ethnic Georgian villages in the province and demanded that the central government withdraw its security forces.
(civil.ge, Interfax)